New Products We're Looking Forward To in 2018
2018-02-05 at 19:04 pm
A preview of some of the great new kit to watch out for this season. Approximate release dates are included. 
Reels
Abel TR Fly Reels – Spring/summer 2018?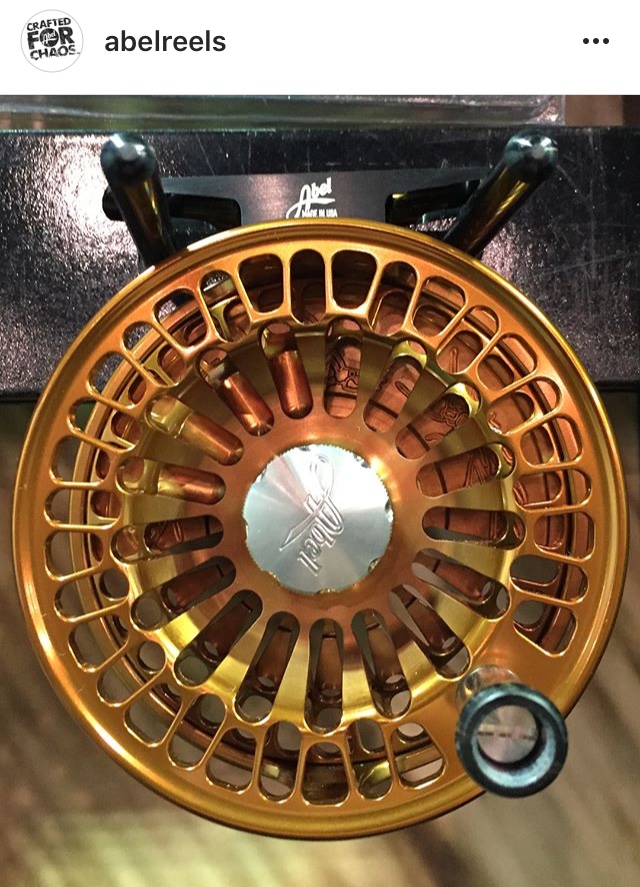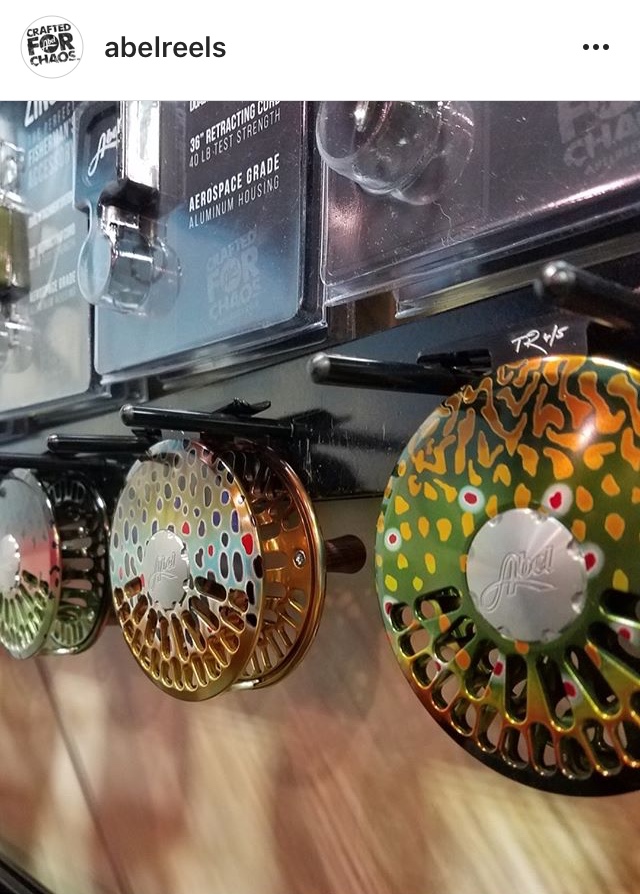 We don't know much about Abel's new TR fly reels except that we love Abels and we love click and pawl reels on our trout rods. What more could you ask for?!
Ross Reels Evolution LTX – Late Winter 2018
The successor of Ross's exceptionally popular Evolution LT, the LTX has a sealed and stronger drag mechanism and great new looks, while maintaining the same great sound and feel as the LT. The Evolution LTX also uses Ross's new canvas phenolic rod handle that increases grip when wet.   
Ross Reels Gunnison Reel - Late Winter 2018
Built on the same great platform as the LTX, but with the classical looks of the original Ross Gunnison reel. A real looker with a high performance drag system!
Hatch Finatic 2 Reels – March 2018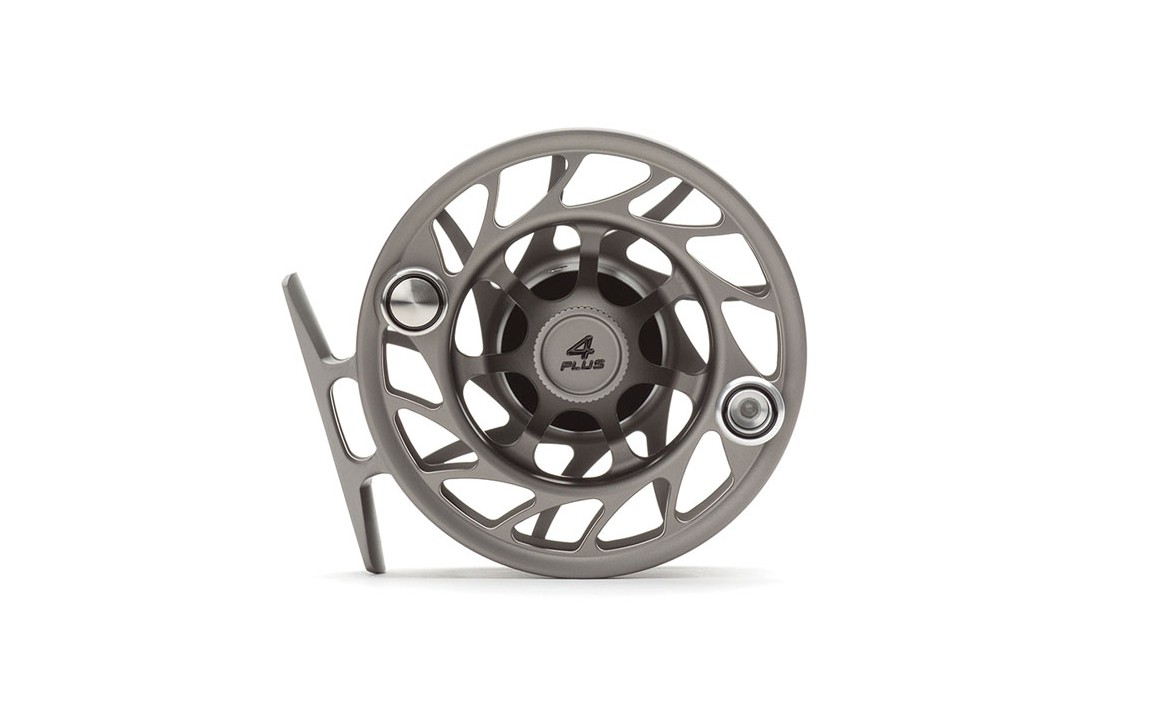 Although it isn't new to the market, the Hatch Finatic 2 will be new to us this year.  We hear nothing but good reviews about Hatch and we're stoked to hit the water with them.
Echo Bravo Reel – March 2018
Tim Rajeff has taken his low price-oriented model and brought it into the saltwater market. This is certainly the most cost-effective anodized reel with a sealed drag that we shave stocked, and it will be a fantastic way for folks around here to get an economical trout streamer reel that they can also bring with them to the salt.
Rods
Loop Cross SW – Here Now!
Loop's fantastic cross series of rods has been modified specifically with the salt water angler in mind. Now more robust, with a faster action and a beautiful blue colour, the Cross SW is a great option for anyone looking to add a top-of-the line 7 through 12 weight to their arsenal.
Echo Swing
A spey rod that gets you into the game without breaking the bank. The Swing comes in #6 through #8 and is made in both 'switch' and 'Spey' lengths. A great rod that Tim claims will get you into Spey fishing, but that you won't grow out of.  
R.L. Winston Nimbus – Here Now!
Your next fly rod. After fishing and casting the Nimbus in numerous weights and lengths, all I can tell you is that this series should be high on your wish list. Light in hand, beautiful finish, fantastically smooth medium-fast action; it is dang good. It certainly isn't the cheapest rod on the market, but a $769.95 it's a fantastic option for someone who wants a beautiful (in every possible aspect) fly rod that doesn't push up into the $1000+ range.
R.L. Winston Kairos - Summer 2018
Winston's second new all-graphite rod is the Kairos. This rod has a faster action than the Nimbus (and most other Winston's) at an even greater price. You don't get the same beautiful wood burl reel seat as some of the other Winstons but the great price and excellent 'Winston feel' certainly make this rod a great choice for any angler.
Waders & Boots
Simms G3 Wader – Here Now!
The keystone piece of Simms' new G3 Guide waders is the redesigned Gore-Tex material. They've made the material so much more puncture-proof that they were able to reduce the number of layers of fabric throughout the wader. This drastically increases the wader's breathability while maintaining the exceptional durability Simms is known for.
New Simms wading boots – Any day now
Simms has released new G3 Guide, Headwaters, Headwaters BOA and Freestone boots. We're stoked to see how these boots do in the field because we know Simms wouldn't release updated boots unless they were making serious improvements.
Accessories
Simms Dry Creek Z packs – Here Now!
The Dry Creek Zip hip pack, sling pack and backpack are completely redesigned and they look great! New zipper designs provide easy access and an updated material with a 'demin-like' face fabric provides a great look.
Fishpond ThunderHead Submersible packs – Here Now!
Fishpond Thunderhead Submersable Lumbar from Fishpond USA on Vimeo.
Another new waterproof pack, this time from Fishpond. We're super excited about these packs for quite a few reasons. Firstly, they look and feel fantastic in hand; the two colours they chose are aesthetically pleasing and the material seems like it will stand up to a serious beating. What makes it eve better is that they are building these bags out of recycled nylon. To learn more, check out this great article from Moldy Chum explaining the design of the backpack and the materials it's made from.
Find it here
Rising Universal Net Holder – The Answer – Spring 2018
This is pretty awesome. A very simple and very useful net holding tool from Rising, so that you can bring your net with you wherever you go, with whatever bag/storage solution you like. I would be surprised if every BRT shop employee didn't have one of these by the end of next season.
Apparel
Alpaca Socks – Here Now!
These are another product that is not necessarily new to the market, but new to us. These socks are made in Innisfail, AB from Canadian Alpaca fibers and they are awesome. So far, I've tested a few models while bike-commuting to work, winter fishing on the Bow, ski touring and at the resort. They are fantastic. Very comfortable, quick drying and as warm as I've needed throughout our so-far cold winter.
Simms River Camo – Fall 2018
Can I disclose this one? Simms will be releasing their specially designed camo pattern on a bunch of products this year. They say the camo is designed for situations with finnicky trout, but we figure it will be particularly useful for those of us who transfer our hunting pursuits from cold-blooded swimming quarry to warm-blooded flying quarry once September rolls around. Most notably it will be printed on the G3 Guide waders! There's now a serious option for those folks who like to fish and waterfowl hunt but have no desire to have sweat lodges, sorry neoprene waders, on their legs.
Simms Axtell Pants and Shorts – Late Winter 2018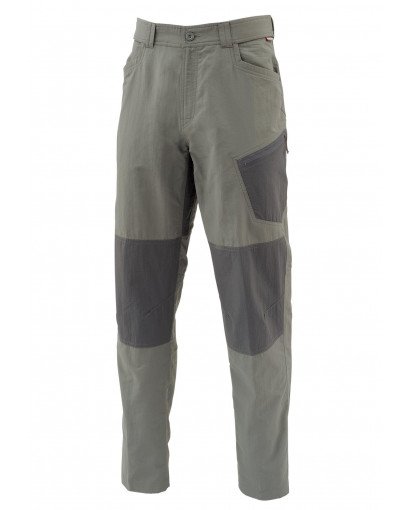 These do-everything pants from Simms are likely to be the antagonist to any spousal relationship. Use them under your waders, for wet wading, casual wear, dinner wear(?), hiking, hunting, mountain biking, anything really. Bound to be worn so much that they get that 'honey, are you seriously going to wear those again?' look from your partner in crime.