The Christmas Blog
2017-10-03 at 17:32 pm
THE CHRISTMAS BLOG
Christmas is right around the corner, don't fight it. I don't know about you, but I often find myself hopelessly searching for a gift on a cold evening on December 23rd, although I often don't know what I'm searching for. As I step out my door and inhale the painfully cold winter air, I will frustratingly swear under my now visible breath. Trudging through the wet snow to violently scrape the harsh ice off my windshield, I am once again forfeiting my blissfully cozy home for a dark, bleak, and frozen wasteland. The scene is apocalyptic, like something from Walking Dead or I Am Legend. You don't want to be a part of it this year, do you? (This blog post is not at all overly-dramatic).
Luckily, we have carefully created an easy-to-read guide of a plethora of perfect gift ideas for the avid fly-fisherman or woman in your life. It includes links to our online store, making tedious christmas shopping a simple and speedy task. Do yourself a favor, and have a quick glance through these fantastic gift ideas (organized by price). However, if cold evenings full of grim and despair are for you, close this blog now and save your shopping for the last minute just like every other year you promised you wouldn't. Don't say we didn't warn you.
FEATURED WINTER GEAR: (stuff that will keep you warm)
Simms Extream Foldover Mitt - $79.95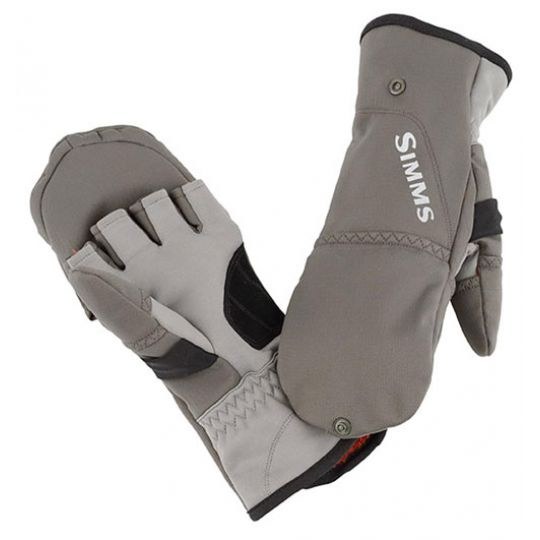 Keep your hands warm and easily free to tie knots, do up zippers or remove a fly from you're trophy fishes mouth. Simms' new Exstream Foldover Mitt features Polartec Powershield Pro for potent water resistance and high-loft insulation, while DWR-coated stretch fleece fabric puts unmatched warmth-to-weight performance and dexterity in the palm of your paws. When it's time to tie knots, or punch keys to access weather apps, mitts snap to the back giving fingers freedom to wander.
Simms Gore-Tex Exstream Hat - $89.95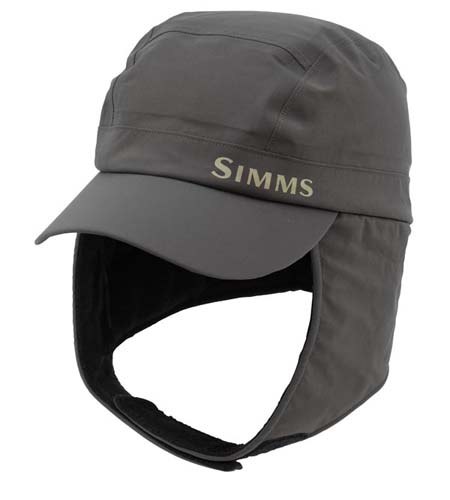 FLEECE FURNACE MEETS 3-LAYER GORE-TEX® PRO SHELL PROTECTION
Snuff an Arctic assault with Simms' fully waterproof, quilted fleece-lined 3-layer GORE-TEX® ExStream Hat. Features include a plush elastic sweatband and customizable fit thanks to an adjustable circumference with a back cord lock. Black under the brim reduces glare. One size fits most.
Simms Waderwick Thermal Pant - $79.95
This minimalist thermal base layer is the ticket for long hours in frightening cold waters thanks to microfiber fleece that holds body warmth for effective, convective heat. Whether contending with a mid-afternoon rain blast or dodging paint stripping winds, layer Waderwick Thermals under Simms' award-winning waders for optimized breathability and wicking performance. Pant features include an adjustable draw cord waistband for a fully customizable fit and an anti-pill finish that stays durable and smooth through the seasons. 
GIFTS UNDER $50
Fishpond Headgate Tippet Holder - $24.95
When you use Fishpond's all-new Headgate tippet dispenser, you will wonder why no one has thought of anything like it before. The spring loaded hinge design allows an angler to easily add, remove and carry most tippet spools with ease. Just clip it on somewhere close and forget about the days of fishing through your waders, vest or pack searching for those loose spools. Dropped your nippers on the hike in? Not to worry, the Headgate also features a built in cutting blade for ultimate convenience.
Caddis Assortment - $27.95
A dozen of our favorite caddis flies to help take the guess work out of fly selection.
Includes 1 dozen flies: 8 dries, 4 nymphs
Save over 20% from regular retail
Tacky Day Pack Fly Box - $29.95
Bigger isn't always better with this sleek and compact fly box by Tacky. Holding up to 180 flies, the silicone bedding on this box is resilient and doesn't lose it's shape. It's an extremely durable box with a magnetic closure system. It's the perfect fly box that everyone's talking about.
Yeti Colster - $35.99
The YETI Colster® is like a stainless steel bear hug for your sodas or longnecks. The Load-and-Lock Gasket secures your drink in place while the Colster's double-wall vacuum insulation keeps your beer or soda frosty longer. Plus, it has a No Sweat Design, which means you say adios to damp or frostbitten hands. 

Let your Colster hold your beer in style with its own YETI color. These DuraCoat Colors won't fade, crack, or peel, and they add some extra grip to your Colster. Get yours in Seafoam, Black, Tahoe Blue, or Olive Green.

-Holds tight to 12 oz. standard bottles and cans
-No Sweat Design keeps condensation from forming
-Keeps drinks colder longer than any standard drink jackets
-Stainless steel construction will withstand even the rowdiest tailgate
MFC Hip Flask - $39.95
These Hip Flasks from the Montana Fly Company make the perfect gift for any fisherman.
They feature quality construction from food-grade Stainless Steel, with a robust rubber seal to keep your chosen tipple secure.
GIFTS 50-$100
TFO Gift Box/Nipper/Scissor - $49.95
This is a great gift idea, all packaged in our TFO silicone slit foam fly box and includes TFO fish print nippers and our TFO fish print Kelly clamp.
Simms River Gift Pack - $69.95
The quintessential collection for anglers on your list, Simms' River Gift Pack includes a skillful combo of Big Sky Wallet and a military-style nylon belt. Built from premium leather and featuring a recycled-wader lining, wallets house three credit-card slots plus a transparent TPU ID holder. The belt, on the other hand, nails relaxed style and has an integrated bottle opener for appreciated libation activation.
Finn Streamer Wallet - $79.95
The Streamer Wallet is a classic alternative to all the plastic cases on the market. It is made from water resistant, 18oz., waxed twill canvas, two patches of thick 100% natural Texas sheep shearling and finished with a friction leather closure. The Fly Wallet also has an internal pocket for an extra leader. If it drops in the water, it will float and dry in the sun.
Simms Rogue Fleece Hoody - 25% OFF - Now only $99.95
A great jacket at an even better price the Simms' Rogue Fleece Hoody is great on the water or as an everyday casual jacket. This jacket comes equipped with weather-shielding attributes to soldier through the day, including a 100-percent polyester woven face backed with a water-shedding DWR finish. Thaw immobile hands inside fleece-backed hand warmer pockets, and duck sideways weather under the three-panel ergonomic hood. Rogues block UV rays with industry leading UPF50 protection and include fly box compatible chest pockets, comfort-enhanced rib knit cuffs and hems, and a hardworking YKK Vislon® center front zipper.
GIFTS FOR THAT SPECIAL SOMEONE
Simms Headwaters Gear Bag - $254.95
Plot your course and embark with confidence thanks to Simms' Headwaters Gear Bag, formulated to keep fundamentals in check with 90 liters of essential wet/dry storage. The separate Wet Storage compartment houses waders and boots while in transit, and the easy-access dry storage section safely stows everything from layering pieces to month's worth of fishing paraphernalia. Additional angler appreciated features include side organization pockets, tuckable exterior rod-tube holders, and a bomber waterproof TPU bottom.
Abel Pliers - $320.00
At 6.5 inches and just 4.1 ounces are for fresh and saltwater fly-fishing. They'll remove a hook, cut 250-pound braided wire or any size monofilament line made. These pliers are a necessity when rigging saltwater leaders and are designed for this task. With built-in bottle opener!
Simms Headwaters Pro Wader - $549.95
Simms' new Headwaters Pro Stockingfoots are handcrafted from 3-layer GORE-TEX® Pro fabric and powered by our industry-leading G3 Guide architecture. Patented front- and back-leg seam construction boosts both mobility and durability on the trail and in the flow. Pass through handwarmer pockets provide a cold-weather sanctuary, while chest storage pockets provide ample capacity for tools and fly boxes. Highly considered details include accessory activation via an internal zipper carrier built to synch with Simms' Tippet Tender pocket (sold separately); adjustable 1.5? elastic suspenders with opposing buckles for waist-high conversion; and belt loops with multiple height options for superior fit. Abrasion bucking, built-in gravel guards and anatomical hourglass stocking feet round out this IFTD 2016 award-winning wader.
Bow River Guided Fly Fishing Trip - $600.00 (accomodates two anglers)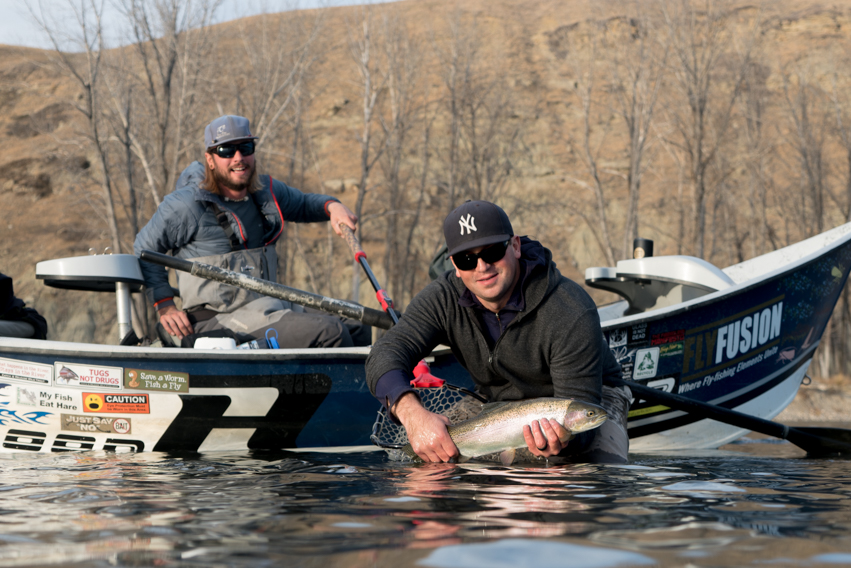 Famous for its large, hard fighting fish, drifting the blue ribbon Bow River is an unforgetable experience. Whether you're floating beneath the sky scrapers through the inner city float, or casting hoppers to the bank in the South East rangeland section of the river, you have the chance of hooking a trophy Brown or Rainbow Trout. Pound for pound they are some of the hardest fighting trout in North America, living in an extremely diverse urban and wild landscape. Join on of our professional and knowledgable guides for a magical day of trout fishing on the renowned Bow River.
Galvan Torque Series Fly Reels - $459.95-$699.95
As the premier reel in the Galvan series, the truly unique Torque Large Arbor reel contains all the hallmarks of the Galvan tradition: function, quality, dependability, durability, distinctive style and striking good looks. Simply add a spey weight or two and this reel can go well on a swith or spey rod. Put that together with the fact that this reel can slow down Bonefish and Permit in the saltwater as well. The staff at Bow River Troutfitters loves this reel because of it high qualit and versatility.
RL Winston BIII LS 4 pc - $994.95
The Boron III LS perfectly blends the incredible "Winston Feel" with Boron III technology to produce a modern light line series. This medium-fast action series is lively and responsive, and delicately presents a fly with extraordinary accuracy. Built with advanced Boron III technology, this remarkably lightweight series has incredible touch, feel and control. These rods are the ideal selection for small stream enthusiasts, anglers using light tippets for big fish, or those who enjoy stalking big fish with small flies. The Boron III LS sets a new standard in what one should expect from a light line series. However, with eighty-plus years of company history behind the development of this series, it really should be no surprise.