A Case for Fishing Two Handers on the Bow
2016-09-07 at 21:10 pm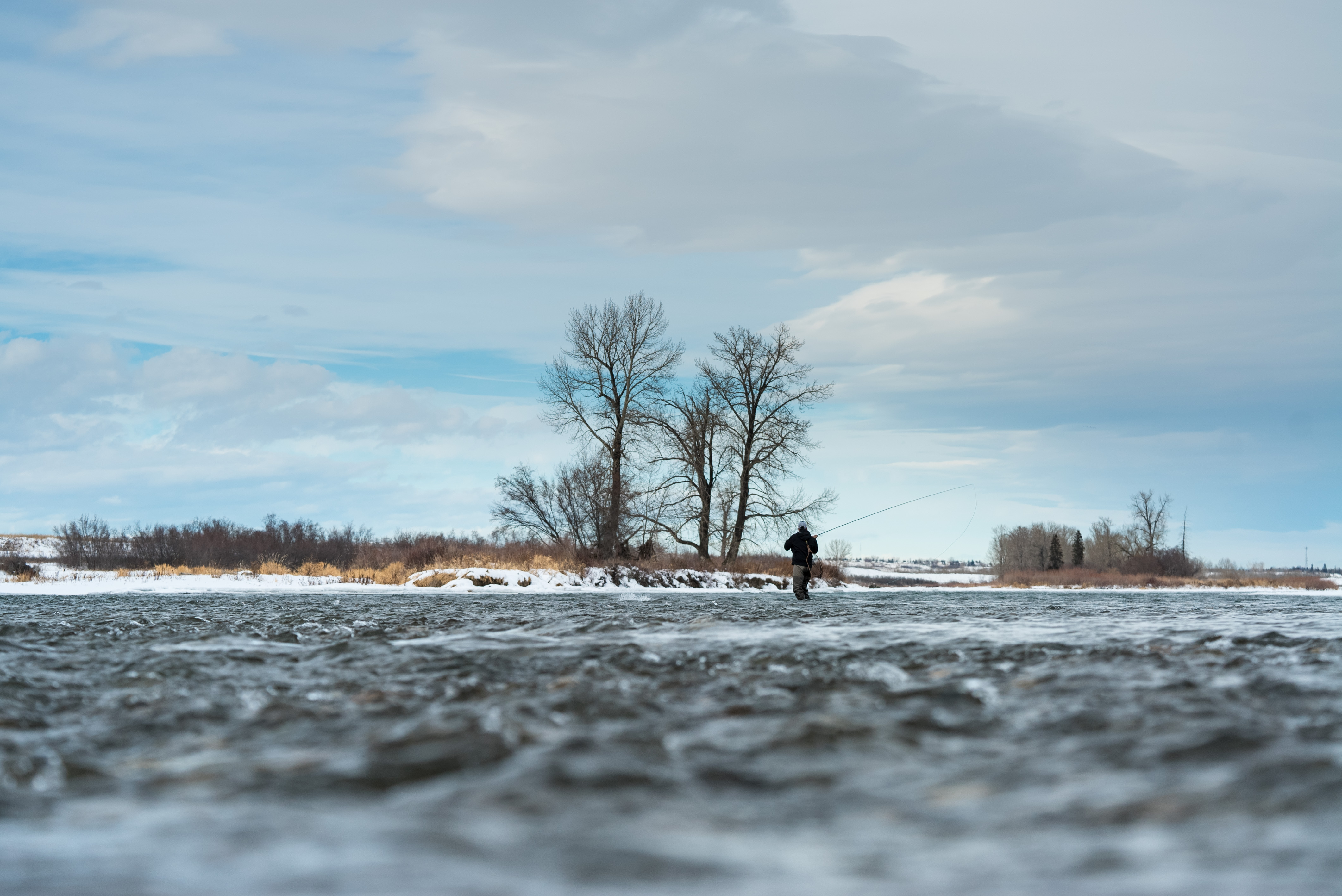 Aaron readies the d-loop for a skagit cast on the Bow River.
                 Fall is my favorite time of year for a number of reasons; the leaves are colorful and fill the air with the smell of humus (not the spreadable type!), temperatures are cool in the morning, giving way to the warmth of the afternoon sun and the biting insects have disappeared with the arrival of the first hard frost.  These are of course all valid reasons for people to love the season, but to the fly angler, fall signals a time when fish are looking to pack as much energy into their diet as possible before the onset of the (often) harsh winter to come.  With this in mind and with all the reports and social media postings of very large fish being caught from the Bow with frequency, it's the perfect time to be out looking for your own personal best!
                  Being a bit of a steelhead junkie, I spend most of my time during the cooler months on the Bow River swinging flies with a two-handed "spey" or "switch" rod.  The general approach involves Skagit type lines in conjunction with sink tips in order to fish larger, weighted flies like streamers or Scandinavian type lines with regular, tapered monofilament leaders to fish lighter flies such as small leeches and backswimmers.  The appeal for most anglers who employ these tactics is the way a fish takes a fly swung on a tight line; "the tug is the drug" is often used to describe the experience which keeps anglers coming back for more.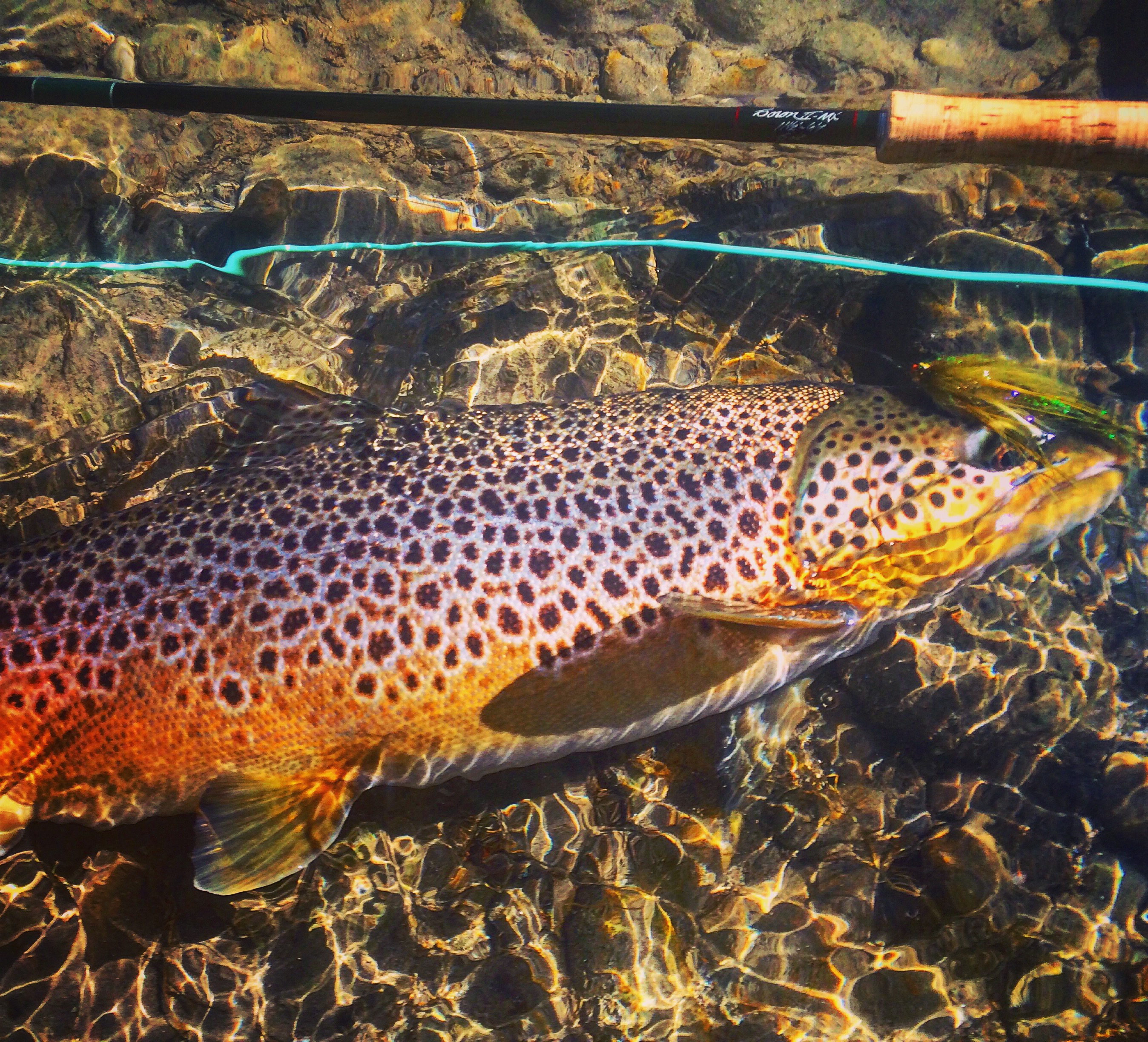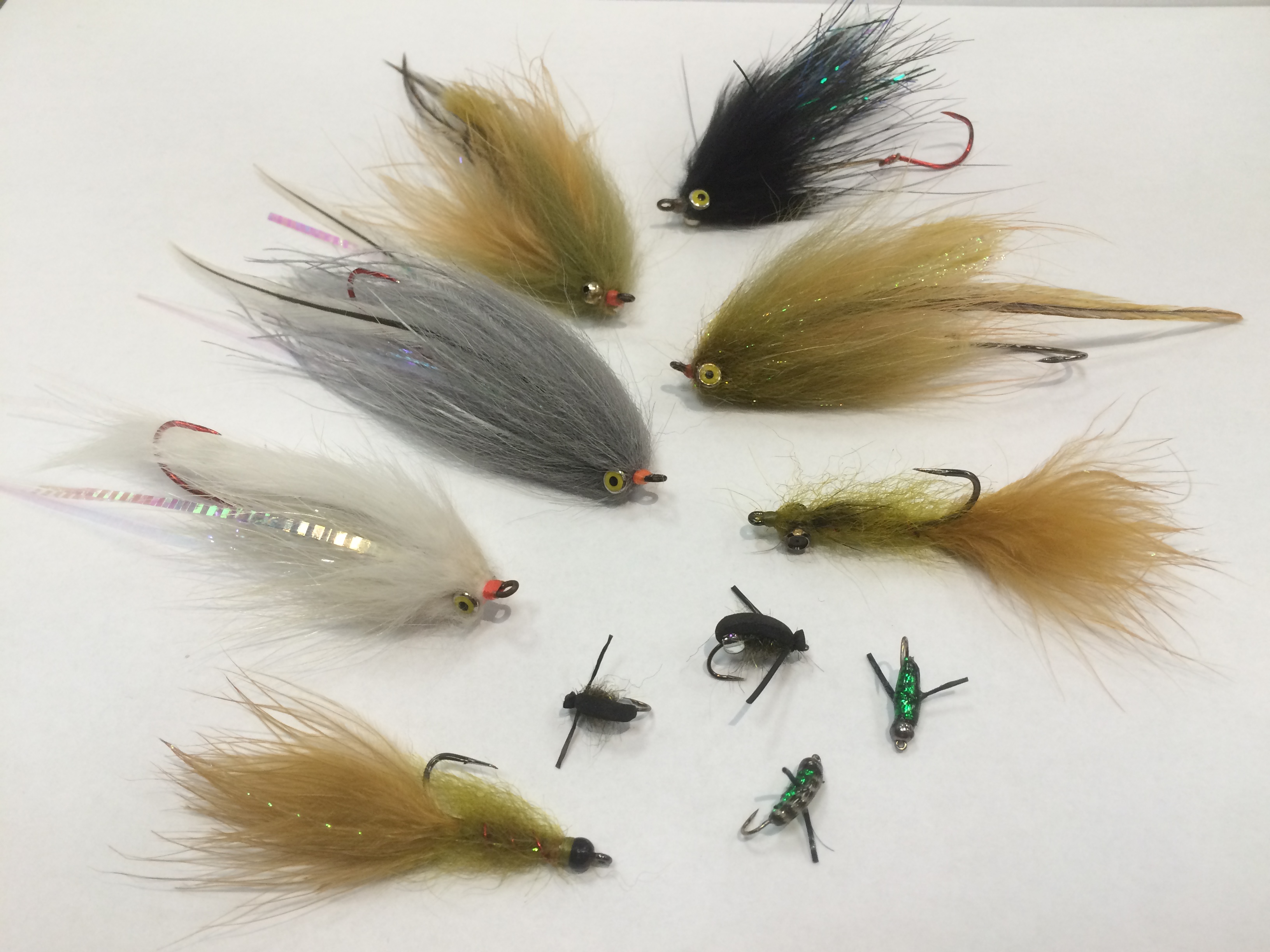 A selection of flies for fishing two-handed rods on the Bow River and a fine brown trout that moved for an olive streamer on the swing. 
                  A huge advantage to fishing two-handed rods is the amount of water you are able to cover with relatively little effort as compared to single-hand rods.  The ability to cast 60-80 feet with relative ease and without the need for false casting means your fly is in the water longer and is being presented to any fish between whatever distance you are able to cast and where you are standing.  One needn't be intimidated by two-handed rods nowadays.  In the past it was often difficult to obtain lines to really make the rods come "alive", but now with line manufacturers recognizing the increasing popularity of two-handed techniques and wanting to capitalize on the market share these anglers represent, they have made it very easy to perfectly match lines to your rod of choice.  In addition, resources such as YouTube and social media have dramatically reduced the amount of time it takes to learn to cast a two-handed rod, better yet, a couple hours on the water with a casting instructor will have you fishing the swing the same day.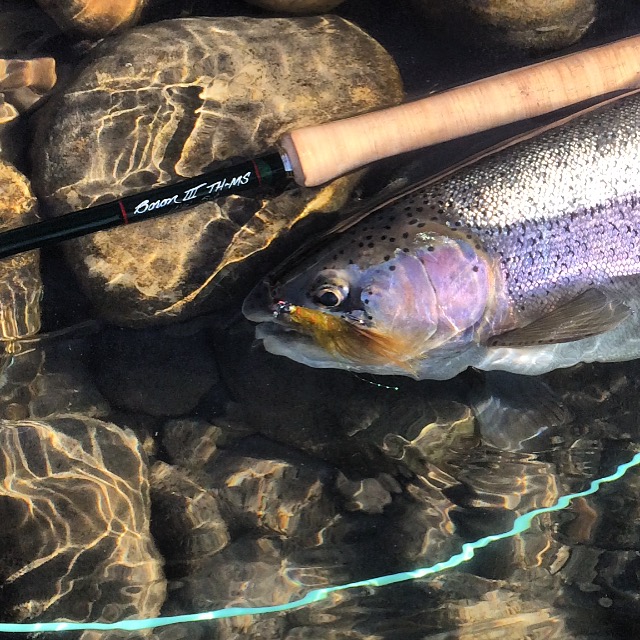 The Winston Microspey makes for a fun afternoon on the Bow.
                  Our preferred rods when targeting trout (and char such as bull trout) tend to be in and around 11' to 12'6" in length with two-handed line ratings from 3 weight to 7 weight.  Examples would include the Winston Boron III TH and Micro Speysalong with Loop Cross S1 and Evotec CAST models.  These rods are not only extremely light in hand but able to make long casts (if need be) and at the upper end of this spectrum, can be used to target summer run steelhead if one were looking to purchase a rod that could be used for a broader range of species. 
                  With the Bow River right at our doorstep, its many broad/long pools and runs and the sheer number of quality fish that are available to anglers on a daily basis, the forum is perfect for chasing these fish with two-handed rods.  Those who can cover the most water are often rewarded with some of the best catches.  
With fish like these coming to the swung fly, why aren't more people fishing two handed rods on the Bow?
Check out our YouTube page for some instructional videos about Two-Handed style casting techniques. Below is a video on the Snake Roll as performed with a Scandinavian shooting head.