Review: R.L. Winston BIIIX 9 ft 5 wt
2016-11-24 at 21:07 pm
As the Alberta fishing season winds down for the winter months, I find myself starting to sort gear, tie flies, and build a shopping list for my annual trip to New Zealand. Each year I flip through photos of trips past and one thing stood out for me this time around: my Winston BIIIX was in my hand in literally every photo last year. Over several trips I've fished a variety of rods depending on the conditions, the size of the river, the size of flies, etc. Looking back on it now, I subconsciously chose the BIIIX every single day last year because it was the right tool for the job and I had the utmost confidence in it.
A great brown caught on the BIIIX.
With the industry producing faster and faster action rods, it has been hard not to end up with a quiver of rods capable of casting laser-tight loops with incredible line speed. While line speed and tight loops are great, in my experience, rods built for this often lose accuracy, especially at short ranges. I fish more foothills streams for big brown trout than I do the Bow, the Oldman, or any other major river. This means the required casts are usually in the 10'-40' range, but rarely greater than 50'. At these shorter ranges I want to be able to put a fly on a pie plate (or preferably a tea saucer) nine times out of ten. Moreover, I want to be able to do it with a size 20 BWO or a size 6 hopper, all with the same rod.  For this style of fishing the BIIIX outperforms any other rod I've cast. That's a lot to say for a rod that is still considered a big water, fast action rod!
The downside to most rods that cast well at short distances in tight quarters is that they're too soft to really put the gears to a big fish that's hell-bent on getting back below that undercut, around those submerged logs, or jumping into overhanging willow branches (it has happened!). I really put the BIIIX to the test in this regard in New Zealand. Again, I fish mostly smaller waters (6' to 40' wide) and a 6lb+ brown in that kind of water has the odds stacked in its favour almost every time. The BIIIX's upgraded boron butt section has impressive power to give you a leg up in these scenarios, while the soft tip still does its job of protecting your tippet during sudden head shakes.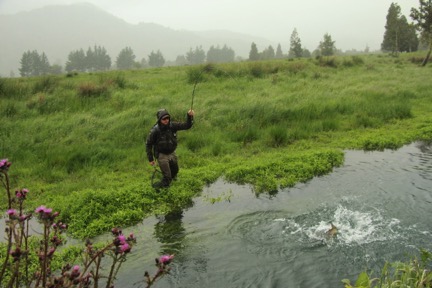 BIIIX doubled over on a nice brown trout. 
The only shortfall that I've found with the Winston BIIIX is that it doesn't always stack up to other manufacturers' rods with long distance casting (70'+). That being said, I think it's a bit unreasonable to ask a rod to have pinpoint accuracy at short distance, the strength and line speed to turn over bulky terrestrial patterns, the backbone to pull big fish out of log jams, AND the ability to fire a streamer out to 80'. That rod is just a dream and doesn't exist on the market (yet)! What does exist today is the Winston BIIIX: a rod that ticks more boxes than you'd think possible, a rod that will strangely start appearing in all your photos once you buy it. If you're anything like me, you'll think you waited at least one season too long to get one!