Shooting Heads De-coded Part II
2017-02-22 at 19:07 pm
How to select the correct shooting head.
In our last blog, we outlined the main differences between Skagit and Scandinavian shooting heads in terms of application and design.  From short Skagit heads on one hand to long Scandinavian heads on the other but with so many variations in between, there are a lot to choose from.  Why manufacture so many different shooting head models?  Because conditions are not always as simple as 'wind or no wind', 'fishing deep or fishing on the surface' etc., as anglers we cannot dictate the conditions we are faced with on the water but must remain adaptable and shooting heads can certainly provide us an advantage.  With adaptability in mind, we will look at the "middle ground" between traditional Skagit and Scandi shooting heads and describe some of the advantages associated with each.
The following is a list of Airflo shooting heads from shortest to longest and what they are best suited for. We hope to create a basic understanding of the differences between different shooting heads and why you might want to use each in different situations and with different rods. As you read through this list, think about the weight of rods you'll be fishing, the lengths of those rods, the places you fish and the flies you wish to employ.
Skagit Scout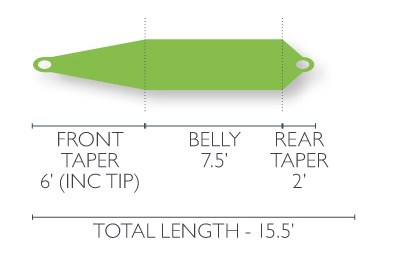 The shortest shooting head made by Airflo, this line is made predominantly for single-hand and shorter switch rods.  They may also be used on longer rods with long sink tips.  Short heads like this excel in tight quarters where room to place a back-cast is especially limited.  The high mass/length ratio of the Skagit Scout and Skagit switch make them the best choice for turning over the heaviest sinktips and largest flies.
150-480 grain
Single-hand 5-11 weight, double hand 2-8 weight.
Skagit Switch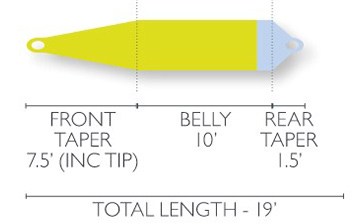 The Skagit switch is like the Scout, though slightly longer and comes in heavier line weights.  Made for Switch and shorter two-handed rods to cast in tight quarters and with long heavy tips.
480-600 grain
Double hand 7-9 weight.
Skagit Compact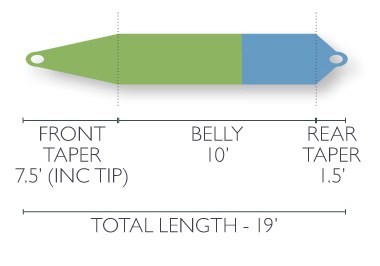 The Skagit compact is made purely for longer two-handed (Spey) rods.  Once again designed for fishing sinktips and larger flies in tight places, however, not as tight as is possible with the Skagit Switch and Scout.  The observable trend with these Skagit heads is the increase in head length to accommodate progressively longer rods.
450-750 grain
Double hand 6-11 weight.
Rage Compact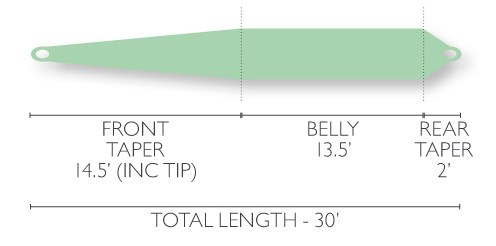 Rage Compact heads are longer than what would be considered a Skagit head, in fact they are closer in length to a compact Scandi head.  The Rage heads are designed to cast tapered mono/fluorocarbon leaders but will also turn over polyleaders (floating or sinking) and moderately sized flies. These heads were developed primarily for anglers who want to cast (larger) dry flies for steelhead, even in windy conditions, but who are not proficient in touch-and-go casting techniques and hence prefer to use Skagit style casts.
300-600 grain
Double hand 4-9 weight.
Scandi Compact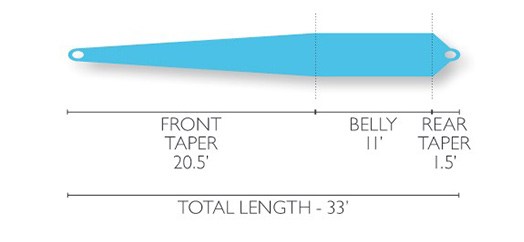 The Scandi Compact is great for surface or near-surface presentations utilizing Scandinavian or underhand touch-and-go casting techniques.  Because this line is shorter than a traditional Scandi head, it can be used on shorter rods as well as in tighter quarters.  Scandi heads can cast (relatively) farther than Skagit heads, but will not cast into the wind as well due to the their longer more delicate front taper.  It is for this reason that Scandinavian heads will not effectively turn over the type of sinking tips one would use with Skagit heads, however, polyleaders (floating or sinking) are well adapted for use with these heads.
240-540 grain
Double hand 4-9 weight.
Scandi Long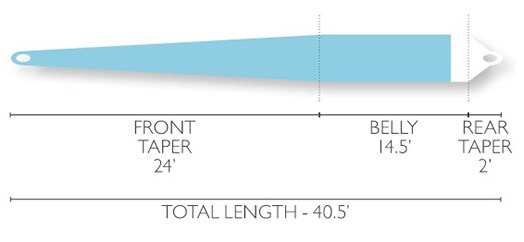 Much the same as the Compact in terms of overall taper though longer for larger/longer two-handed rods.  A long head like this gives you the advantage of making very long casts to cover a great deal more water thus potentially presenting your fly to more fish.   
450-600 grain
Double hand 6-9 weight.
 Although having a collection of shooting heads may sound expensive, they are typically less expensive than full lines and when using a common running/shooting line, can provide you great versatility with only a single rod/reel versus the expense of having multiple rod/reel combinations rigged for various techniques/approaches.  This, in and of itself can help make you a more productive angler as you will be able to adapt to varying conditions you may be confronted with while maintaining a more minimalist approach in terms of just how much tackle you will need to carry with you for a day on the water.