Loop Evotec Medium Cast 4 & 5 wt rods
2017-02-28 at 18:17 pm
Mark's Loop Evotec CAST Medium Rod Review.
So you've probably seen a couple photos of the guys and gals who hang out around troutfitters with a bright orange stick in their hands. You might not have thought much about it beyond "that rod really stands out, cool." But now I'm here to tell you why you should cast this rod.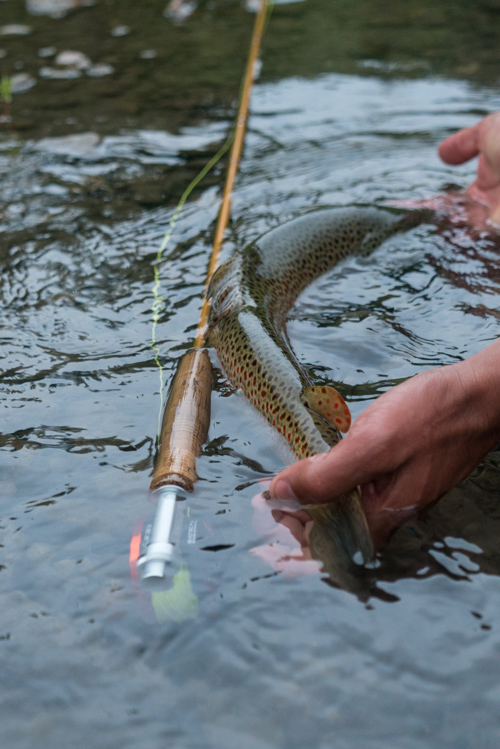 Brown Trout + Evotec CAST 490 Medium.
When the folks at BRT first got wind of this 'medium' action rod series from Loop we were pretty stoked to test them out. Many of our favourite rods are made by R.L. Winston Rod Co., which may come as no surprise if you're familiar with their slower action and beautifully crisp feel. Here was another manufacturer, Loop (who we already knew as making mostly medium fast rods, nothing crazy fast,) stepping up and advertising a 'medium' action rod. In a world of 'fastest line speeds,' 'longest casts' and 'tightest loops,' medium rods can be a breath of fresh air.
Sure, most manufacturers have made not-so-fast action rods for dry fly fishing for as long as graphite has been around. But these slower rods don't often receive the attention they deserve, particularly in trout fishing. This is why I'm writing this review; to talk about a rod series that I like from Loop and to tell you a little about why slower rods rock. To lay the foundations of why the CAST M rocks, I'll start with the latter.
To get down to business, here's a list of reasons why you should have a slow(ish) rod in your quiver. It's all good; whether you've got a glass rod, bamboo or slower graphite.
Reasons to fish a slower action rod:
To slow yourself down.
To present a better fly.
To improve your casting stroke.
To have fun.
To fight fish better. (I was scared Aaron would lose this large rainbow because of the weak bend in this fast action five weight.)
Read my blog: "Reasons to Use Slower Action Fly Rods When Trout Fishing" to learn more about slowing down your fishing. Coming soon!
Back to the Loop Evotec CAST Medium.
I've cast all of the single hand rods in this series, but the four weight and five weight are the ones I've fished the most. I fished the #4 first in April on a couple of evening brown trout stream sessions. I loved that the rod loaded quickly and deeply, yet retained more than enough power to make any length of cast required in a small to medium sized trout stream. I was able to easily perform single hand spey casts, transitioning to overhead casts with tight loops while fishing a long tapered leader and a dry fly (Using the Loop Evotec 100 fly line.) One evening, once I had been convinced that a dry just wasn't going to produce in the way I wanted; I chopped back my leader, tied on a three inch rabbit streamer and continued to have just as much fun casting and fishing as I did before. This was also how I connected with my first few browns on this rod, and even a nice pike (unintentionally, woot woot!) I was sold on the rod from there, but the reasons to fish it just kept coming as I fished with it more.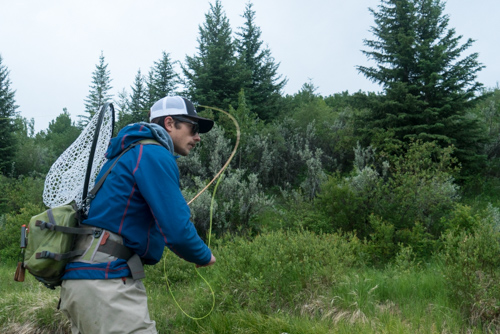 Mark casting the 490 medium.
Why did I begin to like it so much? Well at this point the reason was as simple as: this rod is dang fun to cast! It took a couple of casts to get the hang of, but once I understood how to cast with it, I was not only having a blast, but also learning to improve my cast. Slow rods force a more thoughtful and accurate casting stroke than allowed with very fast-action rods.
Watch Aaron cast and fight a nice brown with the Evotec CAST 490M:
After fishing the 490 from brown trout streams, to the Bow, to cutthroat streams and the Crowsnest; I decided to get my hands on a 590 and put it through the ringer as well. I've spent 95% of my time with this rod on the Bow and because of that it has encountered some sweet trout and tough conditions. After many days on the water with the 5 weight CAST medium, I know that it certainly has no problem casting triple nymph rigs all day. I've had no problems nymphing from the boat and shore with this rod in a variety of conditions, and my friends who've fished it find it easy to turnover flies and fight fish. I truly think that the deep loading nature of this rod has helped some of my less experienced friends land fish that they otherwise might not have. The full flex profile that comes with having a medium action rod is great for loading the rod in close quarters and fighting fish, but it can be limiting at long distances. Although casting a full fly line is certainly possible with the 590M, it will not as easily create the fast line speed and tight loops you get from fast action rods at long distances.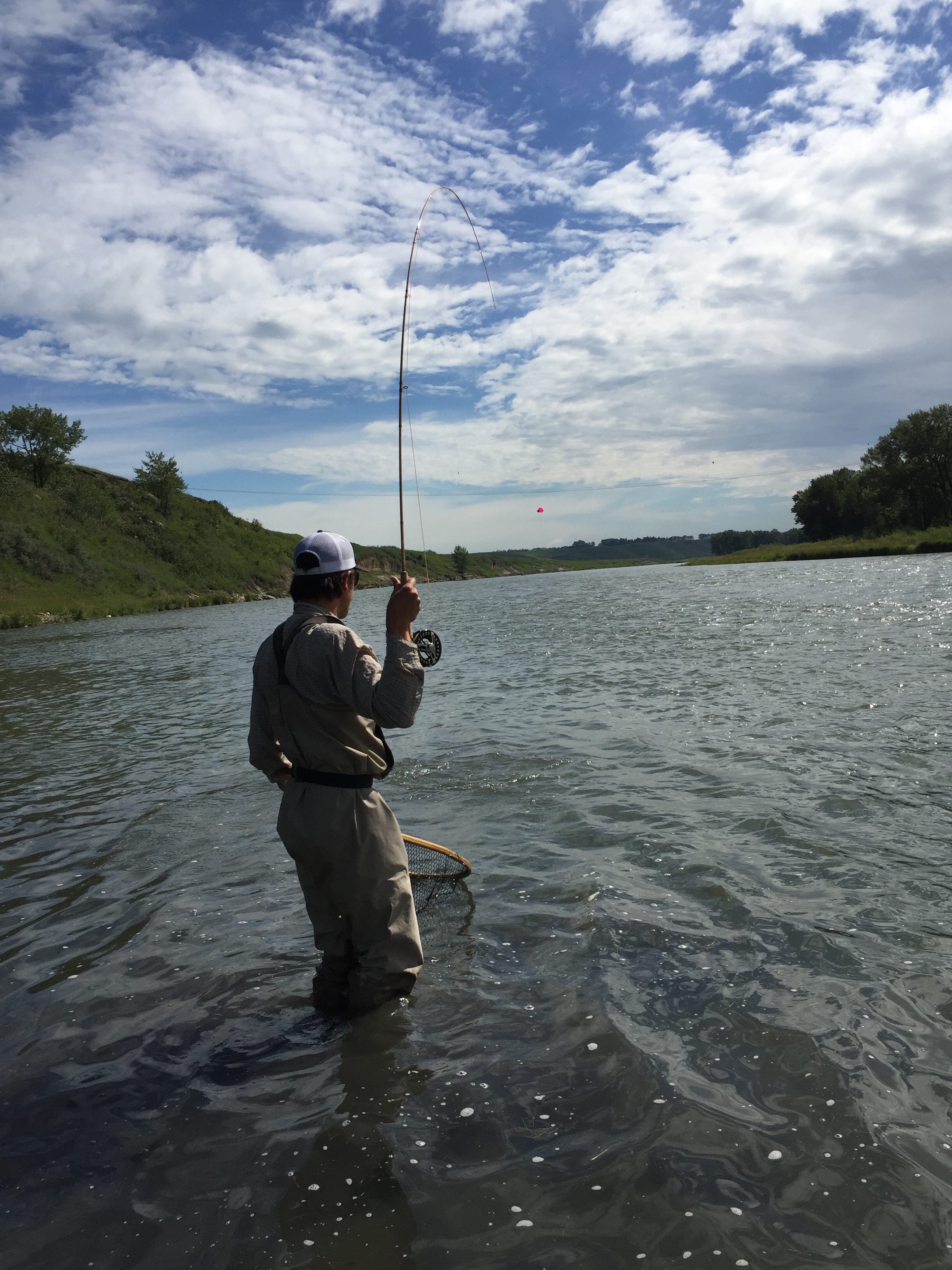 A perfect bend through the Evotec CAST 590 Medium.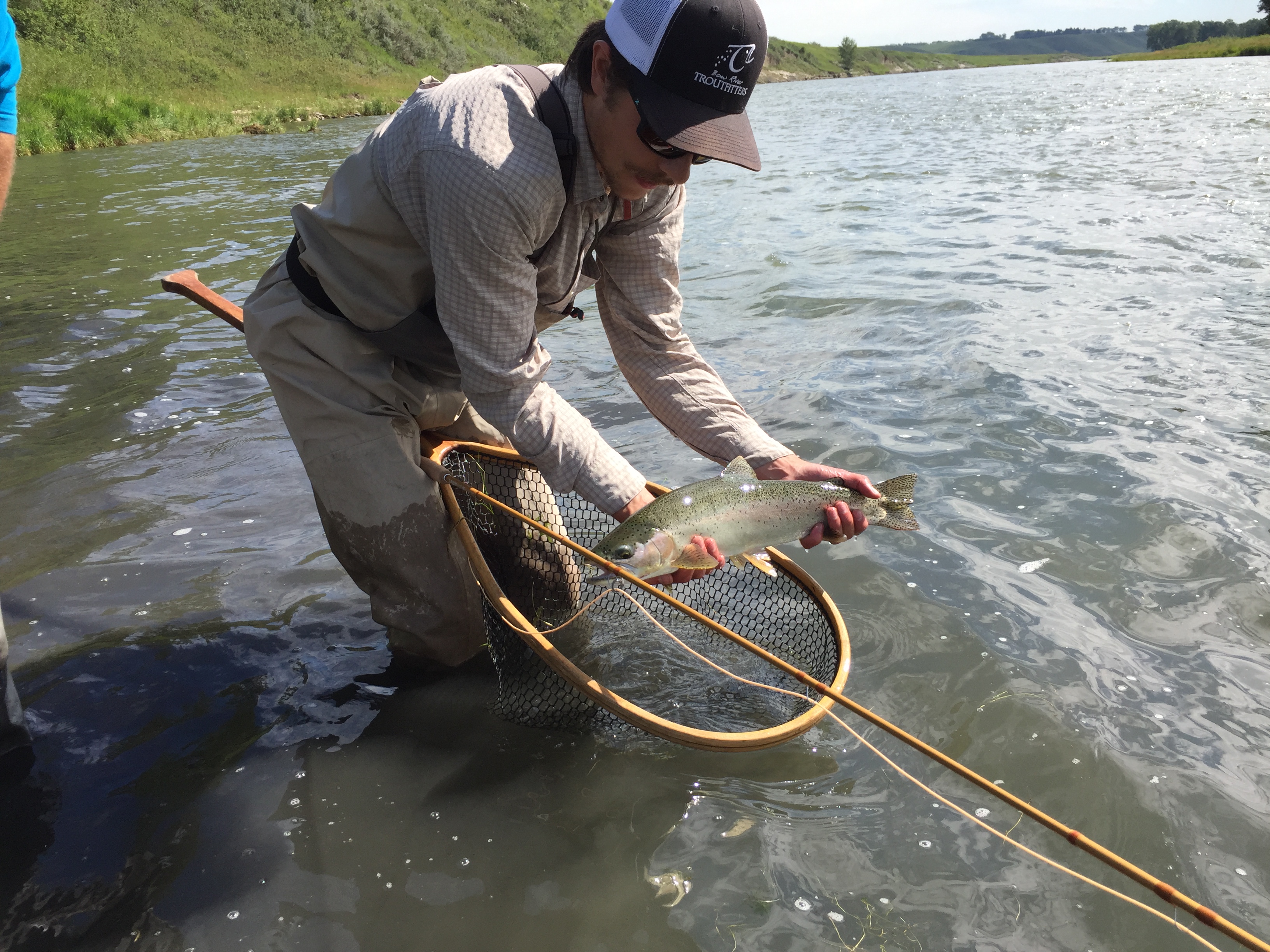 The result.
Where this rod really shines for me is in fishing large dries and 'hopper dropper' rigs. I fished these rigs with the 490, but the 590 felt especially confident when turning over a 10ft leader with a big dry fly and a small to medium sized dropper. Just writing this gets me excited to hit the bank with hoppers next September, now I'm daydreaming…
All in all, this rod series has been a pleasure to fish for trout and with another season quickly approaching, I'm itching to get out on the water and put my personal 590 M to further tests.