An Alberta Fly Fishing Adventure
2017-08-30 at 22:13 pm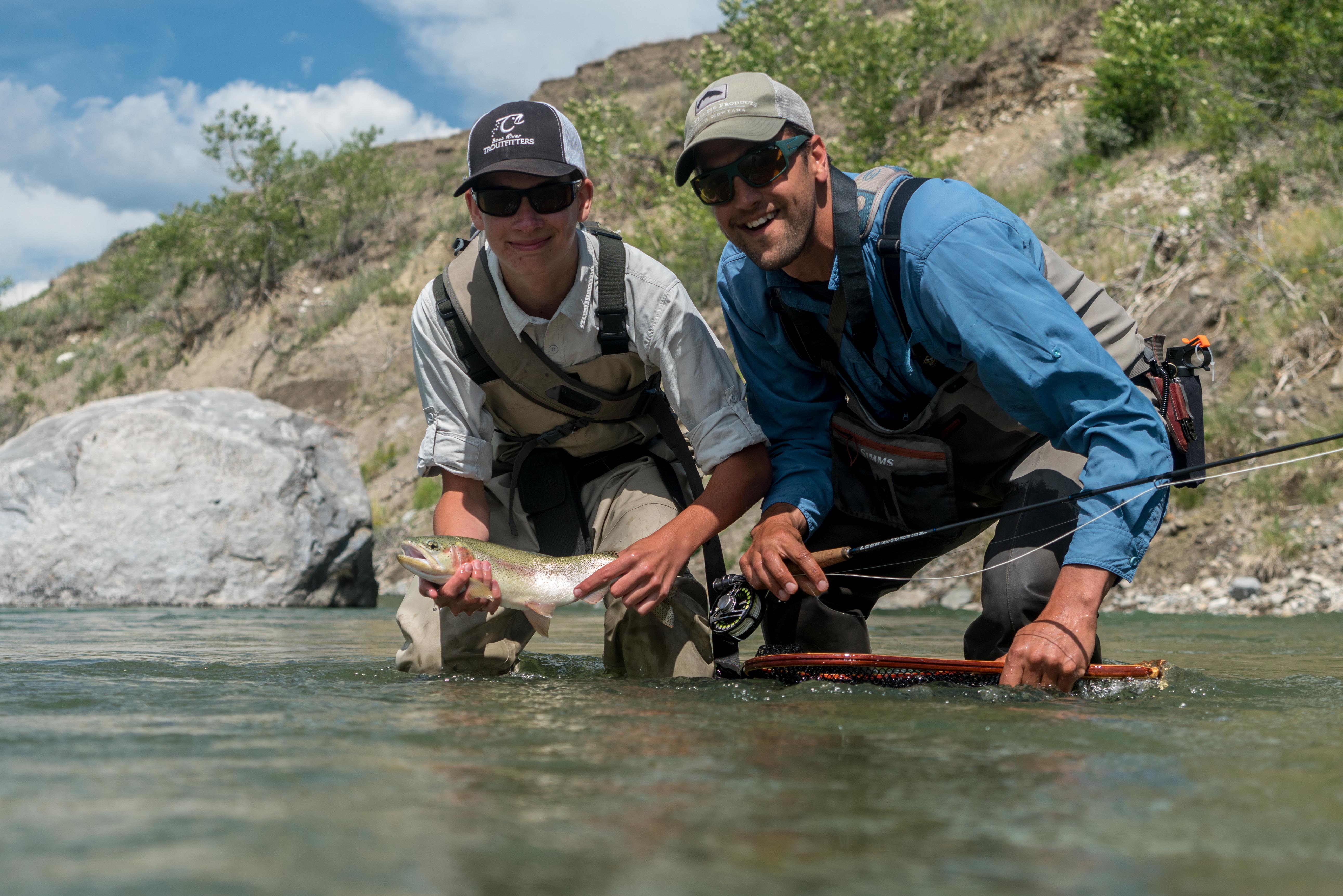 The first chapter of this trip took me into high country where I experienced isolated swift mountain streams, aggressive cutthroat trout and a first taste of western hatches. We encountered some bumps along the way while camping and during the days on the water but were rewarded with lasting memories and some outstanding fish. We drove out of Calgary, ascending from the prairies, through the foothills and as the sun disappeared beneath the horizon we entered the rocky mountains. After a restful sleep, I was eager to hit the water, and spent the morning gearing up and absorbing the mountainous surroundings that were now revealed by the sunlight.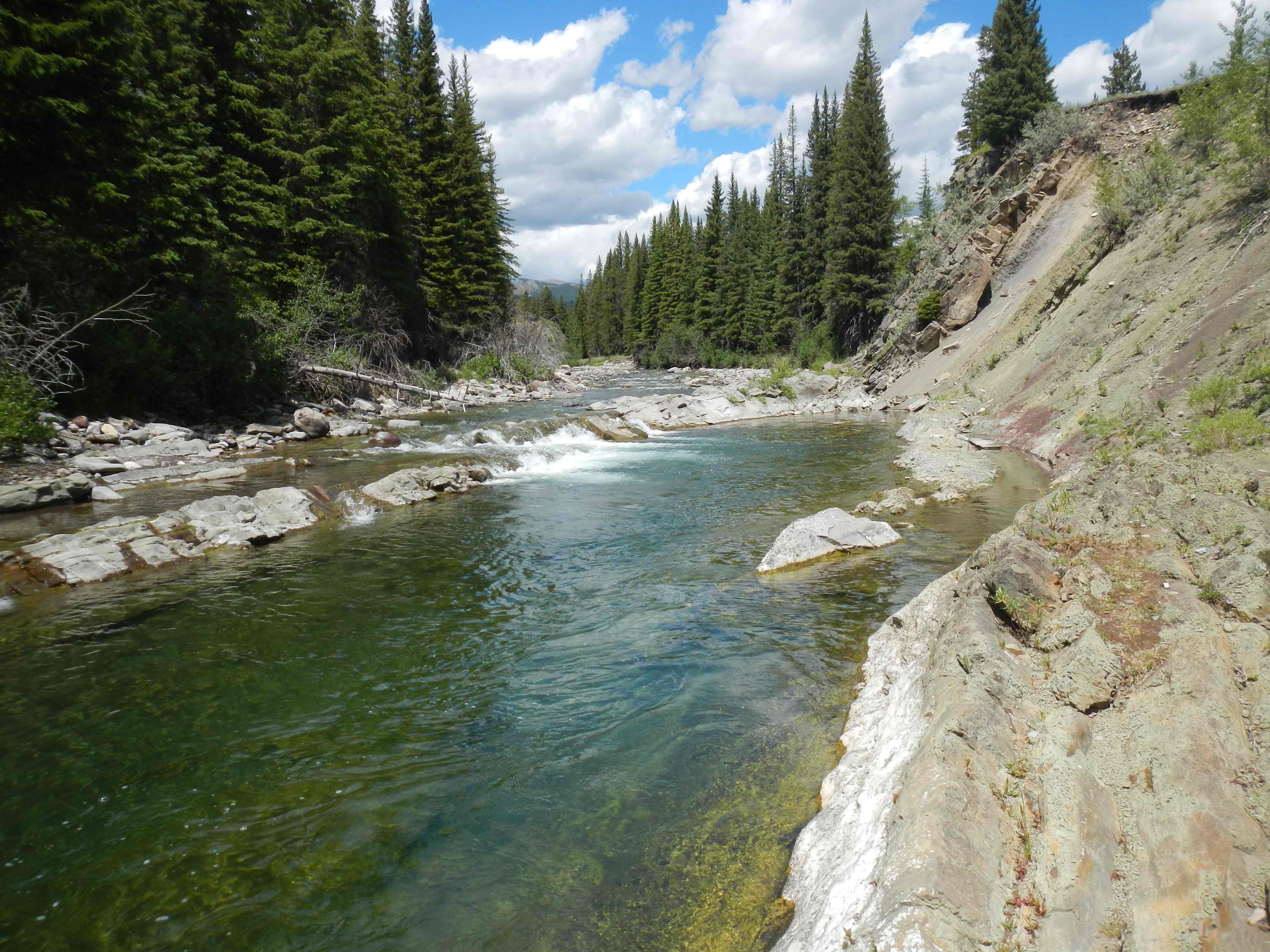 Starting the trip on some beautiful mountain streams.
It had been a few years since I had been in the rockies, and I find that my perspective changes now that I am always scouting for fishy water. During this week out in Alberta, I learned so much about spotting trout, observing the rises and waiting to make a precise cast. There were significant hatches of drakes in the high country while we were there which was amazing. The cutbows readily ate a large klinkhammer pattern I had tied up prior to the trip which was extremely gratifying. It's quite a cliché saying, but it truly does make the experience that much better when the fish eat a fly you have created. I enjoy tying my own flies and providing for other fly fishers, so I continue to run my business venture, Ontario Fly Company. I tie many standard patterns, and am always open to inquiries about custom orders, so please visit my website if this intrigues you - http://www.ontarioflyco.com, email info@ontarioflyco.com
or visit my instagram @ontarioflyco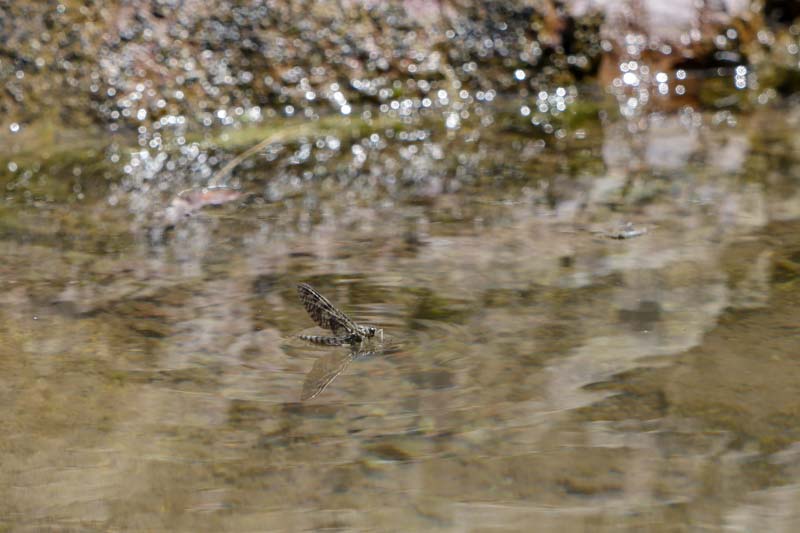 Looks tasty...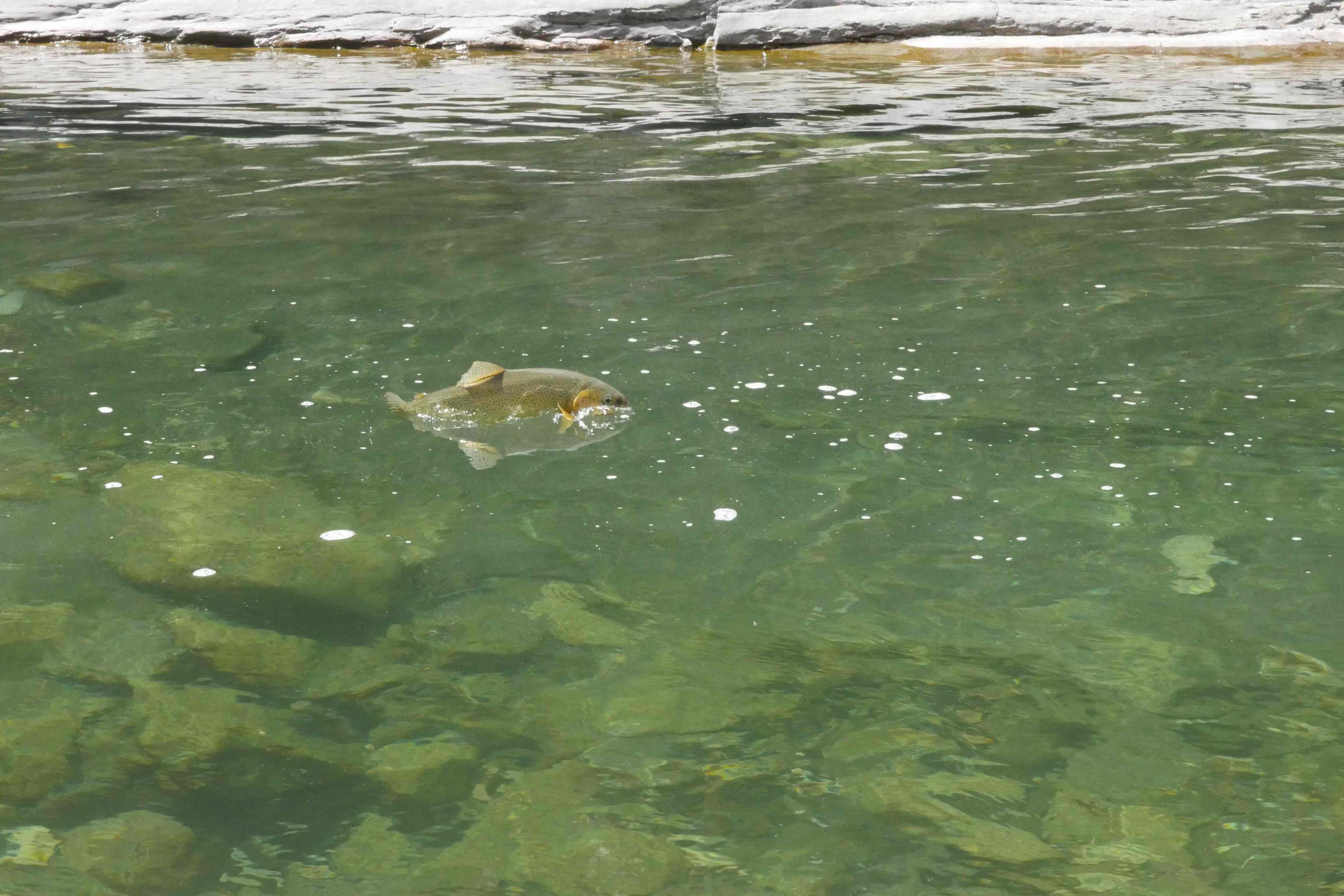 One excited cutthroat!...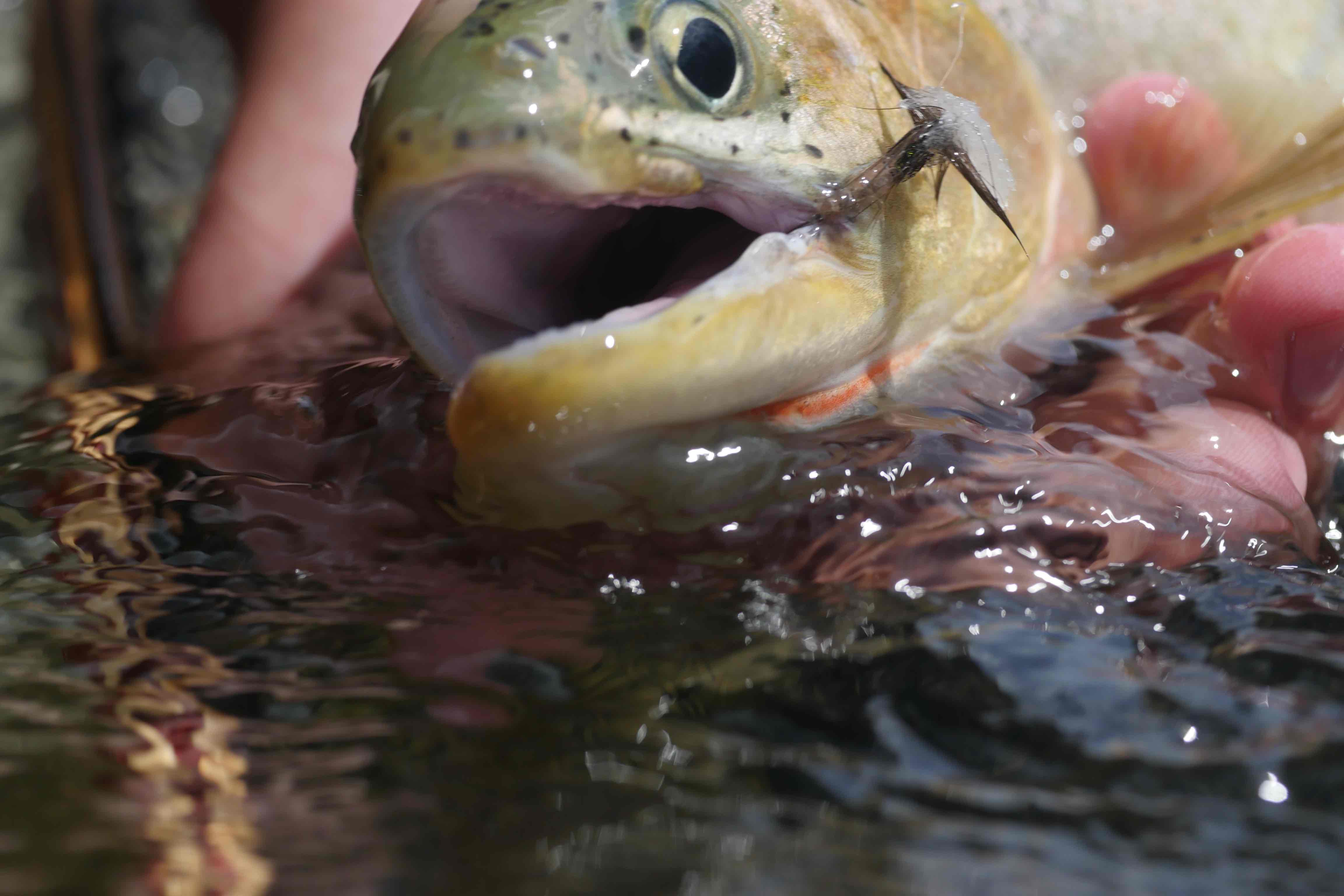 Klinkhammer, yum.
One of the most memorable fish from my week out west was this beautiful brown trout, a healthy, prime specimen. Aaron and I stalked the banks of a tiny spring creek, barely 10 feet wide at some points looking for rising trout. In a creek like this in Ontario, you'd expect to find fish of 7 inches, yet we spotted trout that were easily 27 inches, although due to the gin clear water and tight conditions they were quickly alerted of our presence and spooked. We eventually came upon a small pool where we noticed a large trout sipping bugs off the surface. I tied on a foam klinkhammer style drake emerger, and marveled at the volume of water this trout moved each time it gracefully and systematically came up to the surface to eat. After watching it rise once more, I timed my cast and landed the fly right in the fish's feeding lane. The eat was exemplary, a perfect slurp before I swiftly set the hook and the fight began. The creek was narrow, so the fish couldn't make any runs and there was minimal cover such as wood in the pool, so with the help of Aaron's net skills, I managed to land the largest trout of the trip. I was privileged to hold this beautiful creature for a brief moment, while giving it a chance to breathe and regain energy, before swimming off. The satisfaction of landing this one quality trout, was enough to carry us through the rest of the evening, while we enjoyed some relaxed fishing, and the scenery during my last day in Alberta.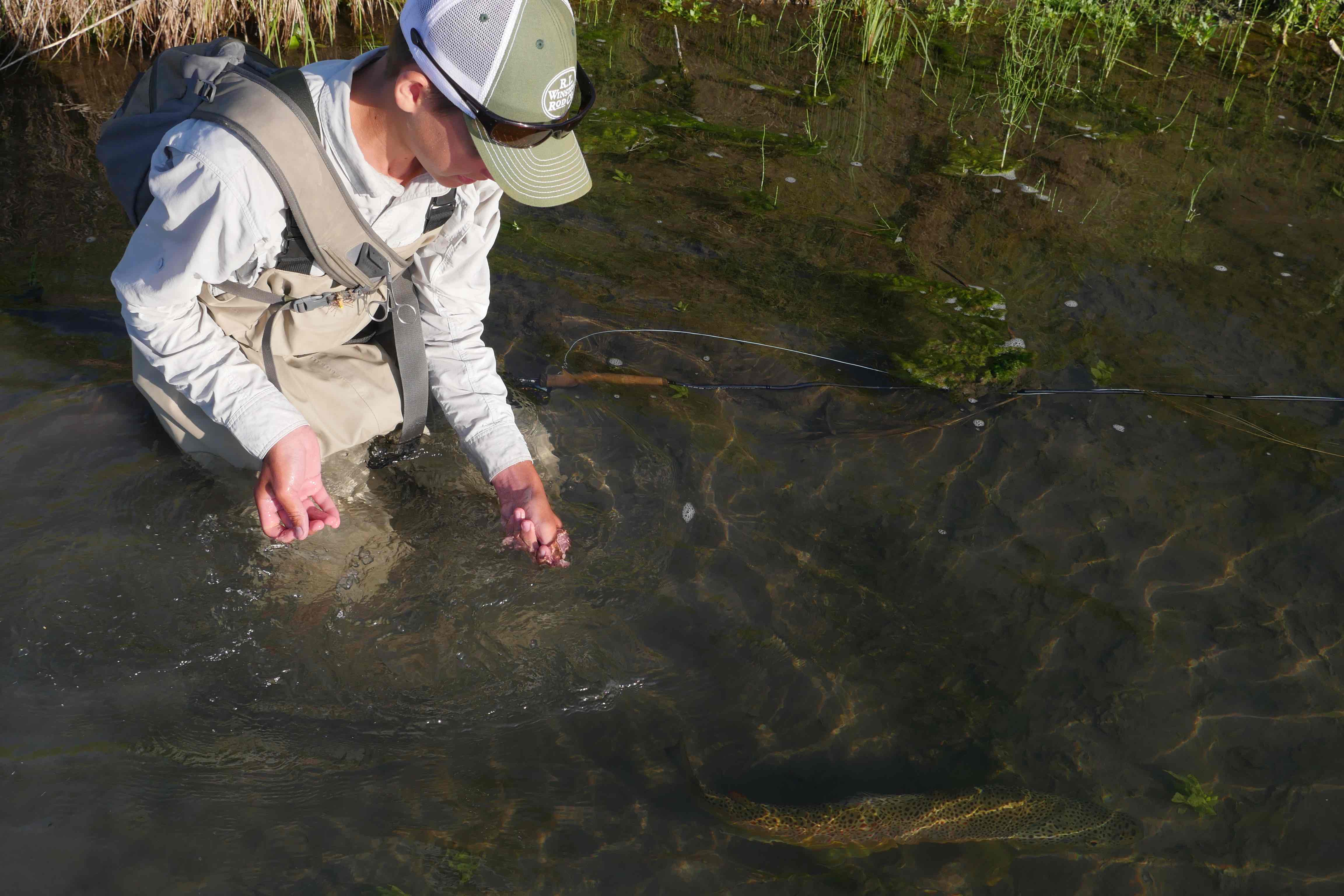 Spring creek brown, back to his home.
Evolution is always an interesting topic. I want to take a minute and express one of the most rewarding and fulfilling moments in the evolution of my fly fishing life. In the summer of 2016 my wife and I decided that we would start having the nieces and nephews come to visit us in the summers. Our 2016 summer was Liam, my nephew who had recently contracted a sickness. You know the one, its symptoms have us in constant search of the next hatch and rising trout. When speaking to him, I am not entirely sure if I should feel happy or sorry for this obsession that he has developed; if you are reading this I am sure you know the feeling. It's the same feeling that you get when you think you are missing out on an epic hatch. Of course, I always welcome a new fishing partner into my life and in this case one that I can take the pleasure of watching learn and grow in the sport. 
In this one week, it was amazing to watch a young fly fisher go from basic casting skills to single hand spey, reach casts, improved line control, reading water and learning how to target specific fish and best of all, fighting and netting fish efficiently (lots of fish). Without getting into much detail, I strongly suggest that if you ever have the chance to share our sport with someone even half as passionate as Liam, you take the opportunity because I promise it will make for some of the most rewarding moments that one can ever experience on the water. Reading his memories of the trip are a great way to relive the experience and we hope you enjoy it even a tenth as much as we did. @aaron_feltham
Check out the video, made by Liam and Aaron below: