Galloup's Streamer School 2019
2019-12-07 at 22:19 pm

The Madison River Valley has to be one of the most beautiful places in Montana and people visit from all over the world to fish there each season. It's been called the 50 mile riffle and the scenery doesn't disappoint the eyes. As you drive along the river east of Ennis towards Hebgen Lake, it's amazing to see this gin clear, boulder strewn river wind it's way along the Madison Range. Our destination is Galloup's Slide Inn and each fall Kelly Galloup, the Godfather of streamer fishing, hosts a streamer school at his lodge on the Madison River in Montana, where he and his guides teach Kelly's theories and methods to fish for trophy trout with streamers. The Slide Inn get's it's name from the rock slide that came off a mountain during the earthquake of 1959 and blocked the entire Madison river forming what is now known as Earthquake Lake. Kelly's shop is just minutes downstream and his cabins sit right on the banks of the Madison river and look out to the Gravelly Mountain Range as seen in the photo below. Here's some highlights from our trip.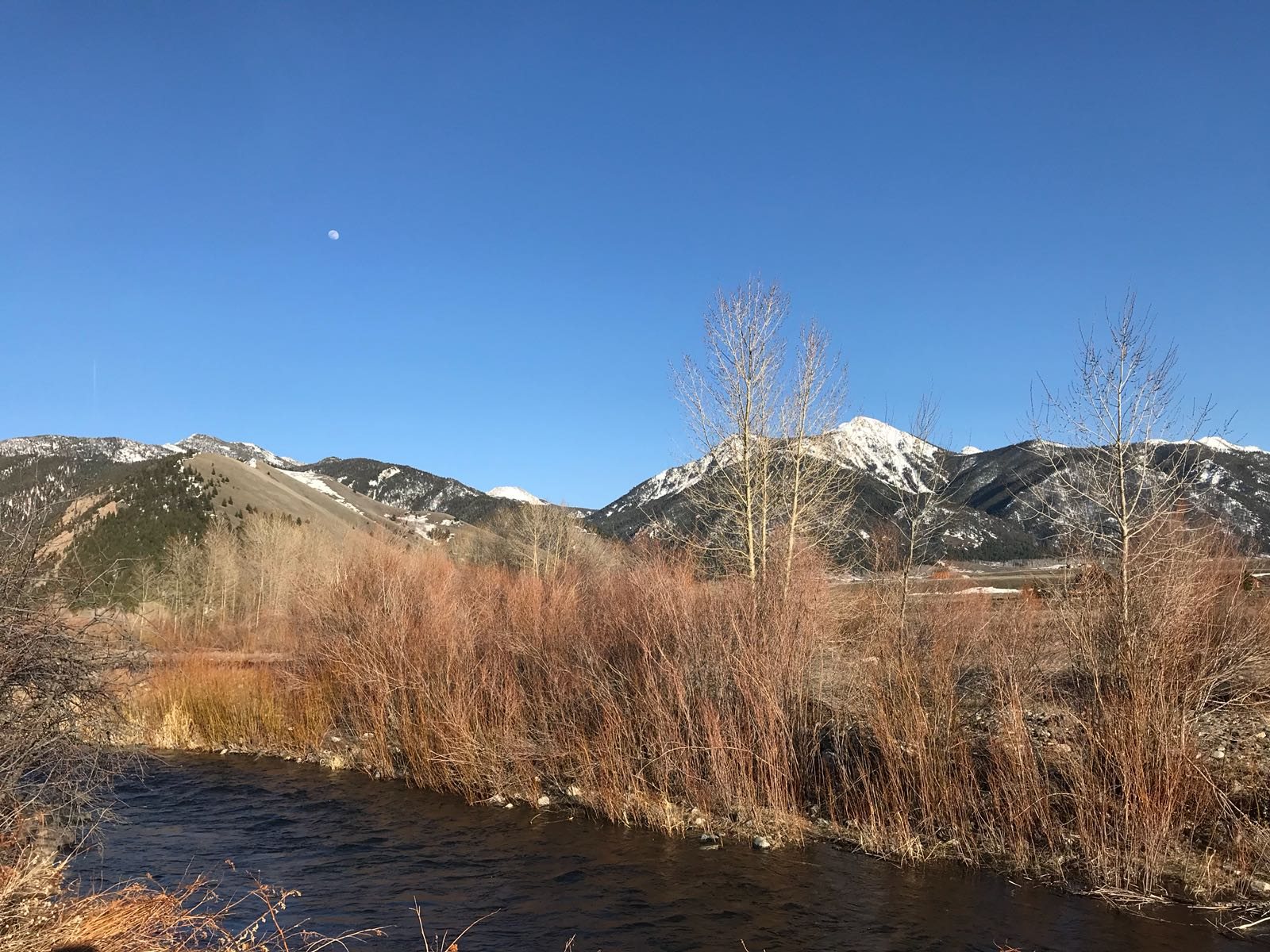 The school happens over a four day weekend and is nothing but streamer fishing. We checked in on Thursday evening and Jeremy, the shop manager recommended we run up to Hebgen Lake and enjoy a few drinks and some dinner at the Happy Hour Bar.
Friday morning starts with breakfast at Kelly's house where we were greeted by Kelly with hot coffee. Afterwards a delicious hot breakfast we all gathered downstairs as Kelly provided his presentation where we learn about how and why he developed his theories on fishing streamers for trophy trout. Coffee, tea and snacks are provided throughout and Kelly keeps us laughing with his antics and stories that all seem to start with "This one time…." The stories are fun to hear and each time Kelly comes back to his presentation to cover more material.
Kelly's guides show up at around noon with lunch and afterwards everyone gets into their waders and gathers their fishing gear as we head out for an afternoon float. At the boat launch Johnny, Kelly's head guide, runs through the retrieves that Kelly has developed and talks about the techniques that we will cover over the next 2 and a half days of guided fishing. Then we climb into the boats and start tossing big articulated streamers. But its not just throwing to the pockets on the banks; we are all reading the water a little differently after Kelly's seminar. That's not to say that the pockets on the banks don't hold fish, but we aren't just out there looking to catch fish we are looking to catch big fish. As the weekend progresses we start to realize that Kelly has done his homework here. The Friday afternoon was a little wet and cool but it didn't stop us from hooking into some nice Browns.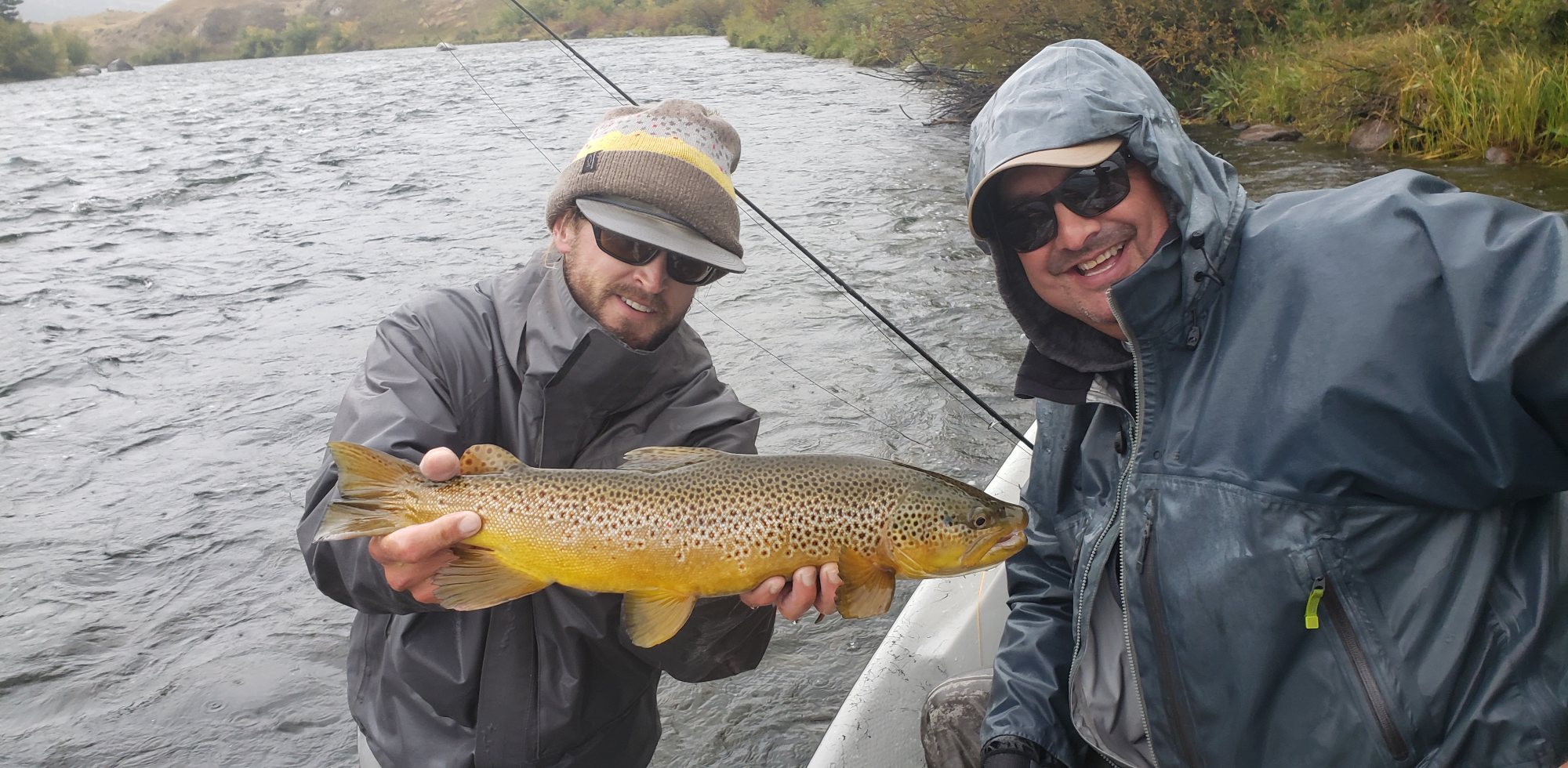 Once back at the lodge we got ready for dinner at Kelly's house. A few cold beverages and some gourmet food was welcomed after a cold and wet day on the river. Everyone talks about the beauty of the river and how they had never fished streamers in this way before but there is a lot of talk about the water we fished and many of us noted that we would have fished in different spots before this morning. Inevitably someone asks Kelly ..."How do you come up with the names of your streamers?" Kelly has some interesting answers but he insists it started out innocently and grew from there.
Saturday and Sunday start with a breakfast in the cabins and the guides arrive promptly at the time designated the night before. Each day we would fish with a different guide to see how each of them have adapted Kelly's style to their own. Each of them is an expert in their own right and this year we made our way over to fish the Jefferson River which is one of my favorites. Each night we would gather at Kelly's house to share stories over dinner and drinks and talk about the exploits of the day.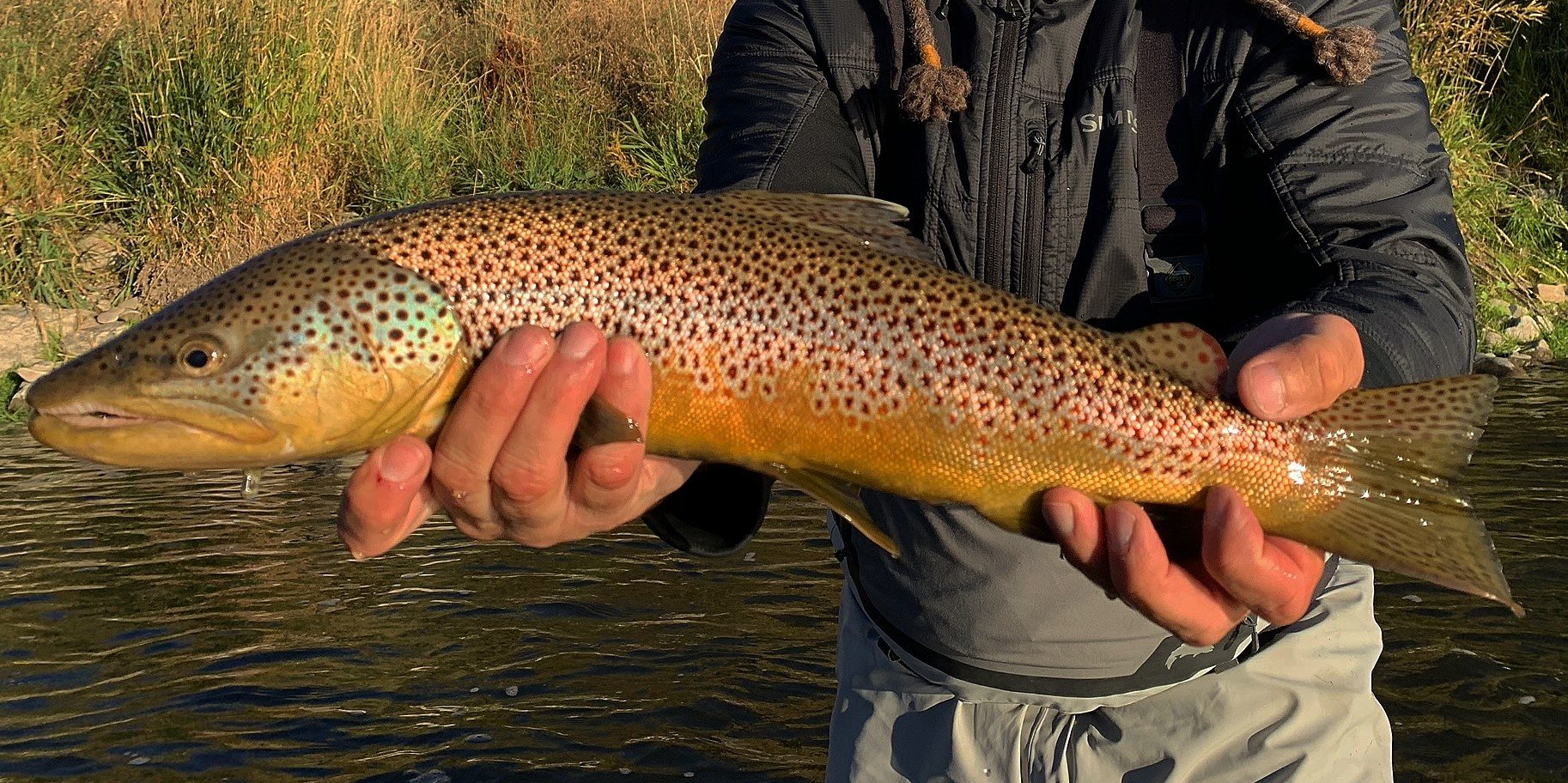 This year's streamer school was full of big trout with a personal best of a 26 and a half inch Brown trout.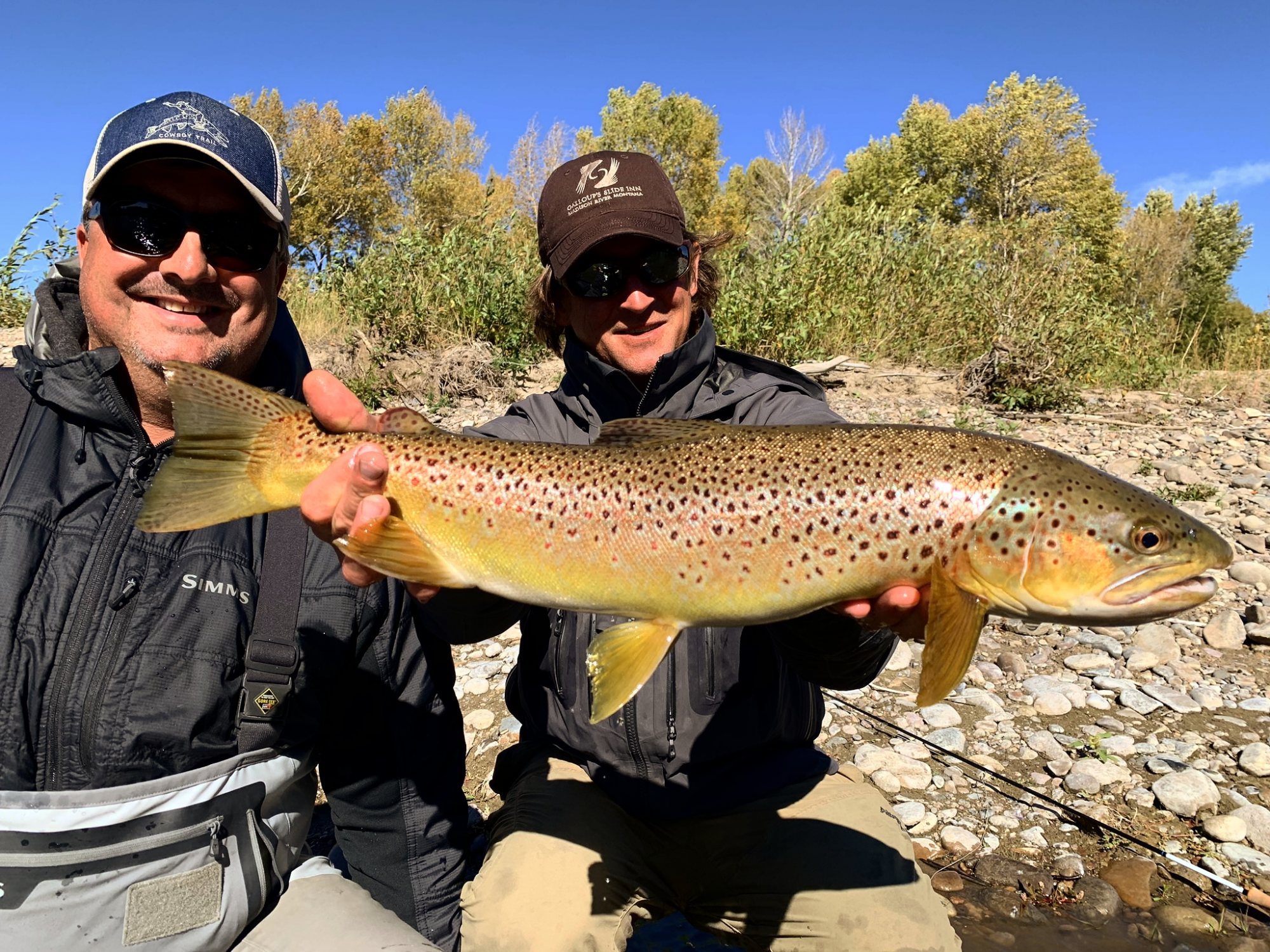 I've attended the streamer school a number of times because I enjoy the hospitality that Kelly and his staff provide, not to mention some of the best trout fishing in Montana. Between the meals and accommodation along with the 2 and a half days of guided fishing you just can't beat the value. I would encourage anyone who enjoys streamer fishing to try and attend one of Kelly's schools or even read one of his books, it might change the way you fish. I might just have to come back next year.