Stay Warm This Winter
2018-09-15 at 18:18 pm
It's that time of year again. Fair-weather fishermen have already set their gear aside. Some anglers are now shifting their gaze longingly upon the mountains that gather blankets of fresh snow, feeling the call to lay down some carefully planned, yet aggressive slashes on a blank white canvas. However, if you are reading this, you too haven't forgot about the river. Fishing during these winter months can be a real treat since the Bow is not nearly as busy as usual. It definitely requires a bit more thought as to what layers you are going to wear though, and this can have a huge impact on whether or not you are going to have a successful day on the water.
Layering for winter fly fishing can be a bit different than layering for other winter activities such as skiing, snow shoeing and even ice fishing. The biggest difference is that the keen winter angler is still wading into the water to fish, even on cold days. This means we aren't only losing heat from being in cold air (convection), we are also losing heat through contact with water (conduction) and we can lose a lot of heat while fishing, particularly through our feet and legs and we usually aren't moving around very much to keep blood flowing in those areas. While the conditions are usually conspiring against us, it can certainly be worth the time on the water when fishing is good and the anticipation of a tug at the end of our line draws us to the river. Read on to learn our top tips for staying warm and what we wear when we're winter fishing.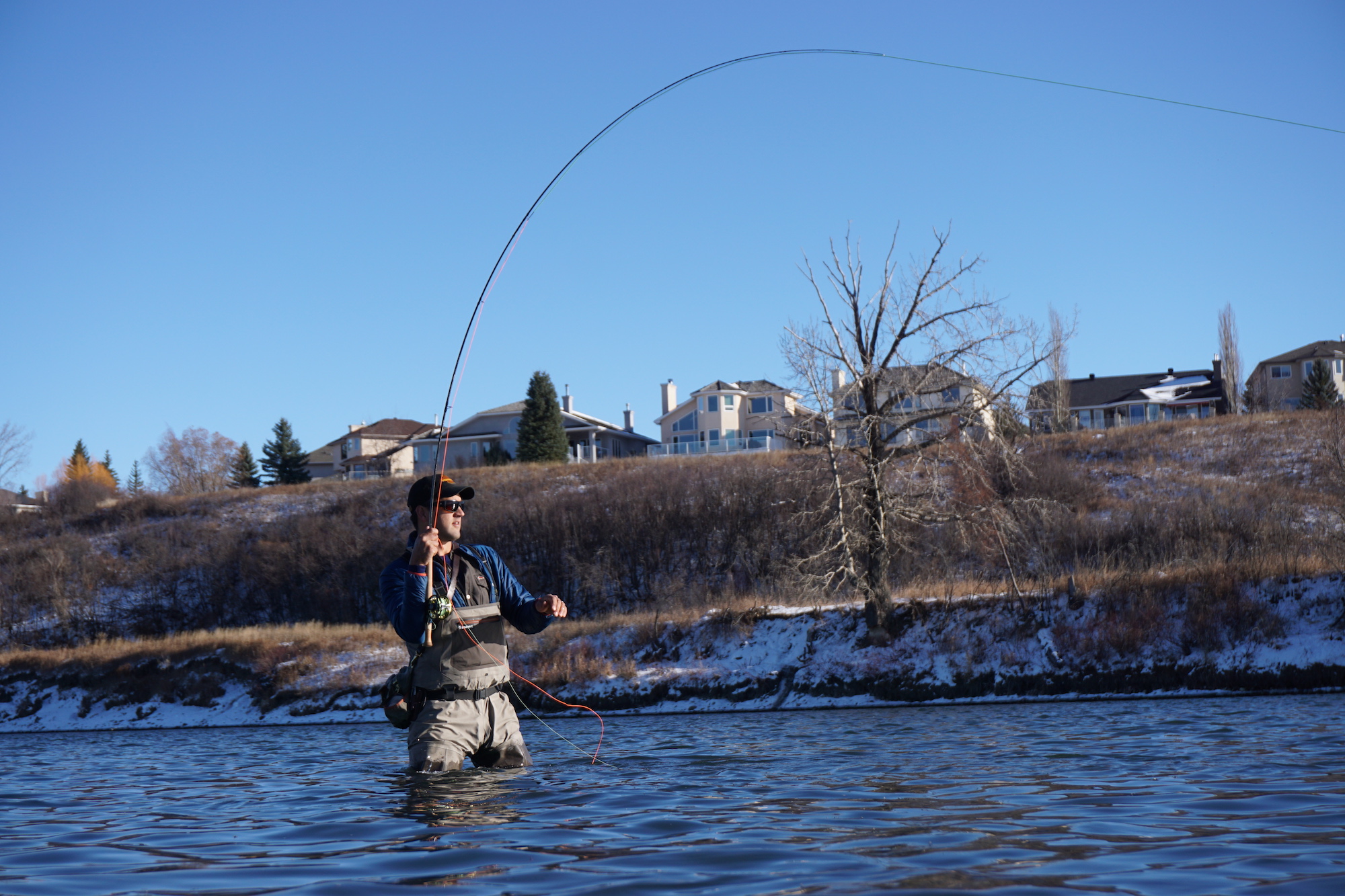 Stay dry.
From head to toe, staying dry will keep you happy all day and in the game. Once you get wet, be it from snow/rain or perspiration, you're going to lose heat significantly faster than you would if you were dry. Why is that? Because of conduction and evaporative cooling, which more-or-less means that the energy required to warm any water/moisture in contact with our bodies is much greater than is required to warm the air directly in contact with our skin. In fact, approximately 25 times more heat is lost when we are wet than when dry, so how does one stay dry while winter fishing?
Utilize purpose-made base layers.
Those of us who spend a fair amount of time in the outdoors are likely aware of the importance of wearing base layers. Base layers are thin, snug fitting breathable layers (not cotton!) that help move or wick moisture (such as perspiration) away from the skin. When people think of base layers they tend to think of long johns, and this is certainly true. Wearing quality long johns on the lower body and a similar layer on the upper body is perfect; just make sure that the layers you're using are breathable and quick drying, our favorite is merino wool. One layer that is particularly important for winter fishing and often overlooked, is a base layer for your feet. Feet are usually the first part of the body to get cold when fishing, and this is usually due to perspiration. Wearing a thin, sweat wicking sock in conjunction with a heavier insulating sock over top can make the difference between leaving the river early due to cold feet or being comfortable enough to stay in the water and make the most out of our short winter days.
Wear breathable/quick-dry layers.
As with the base layer, be sure all other layers you wear are breathable and quick drying. This means any type of polyester or wool fabric, not cotton. Polyester and wool layers will continue to insulate even when wet and they dry quickly. Breathable waders are advantageous too because the inner membrane of these waders allow moisture to move from the inside out thereby removing moisture produced via perspiration.
Minimize/don't handle fish.
If you handle fish your hands are going to get wet, plain and simple. Once you get your hands wet in winter it becomes increasingly difficult to get them warm again.  Using a quick release hook removal tool to release fish without even touching them or removing them from the water will not only help keep your hands warm but is also beneficial to the fish as ice can quickly form on their tissues in sub-zero temperatures and lead to injury or even worse.
Keep a small hand towel tucked in your waders when you winter fish. Whether your hands get wet from stripping line or touching a fish, having a towel to dry them off will quite simply keep you dry and warm.
Take breaks and relax.
The longer you stand in the water the colder you're likely to get, so I recommend not taking fishing too seriously and having frequent breaks. Get out of the water and build a fire, sit on a nearby log, chat with your fishing buddy, enjoy being outside in a beautiful place, drink some coffee, etc. I know it sounds cliché but it isn't always about the fish, and in the winter you'll stay much warmer if you aren't letting the river suck all of your heat away all day.
What we wear:
I've told you why we wear certain layers, here's the stuff we use to get it done.
Waders:
As mentioned earlier, breathable waders are optimal. Our favourite at the shop are Simms G3 Guide waders and they do come in women's sizes. The G3's are exceptionally durable and breathable, to keep you dry on cold winter days and comfortable on hot summer ones.
Under the Waders:
Feet: Simms Lightweight Crew Sock is the perfect base layer for wicking water away from your feet. Put the ExStream Wader Sock over top for insulation and you're good to go.
Legs: The Simms WaderWick Core Bottoms are 100% polyester, just what you need to get perspiration away from your legs. Their WaderWick Thermal Pants go on top as a great fitting Insulating layer. For an even warmer set of pants, check out the new Fjord Pant from Simms and Insulated Midstream Pant-- unbelievable stuff.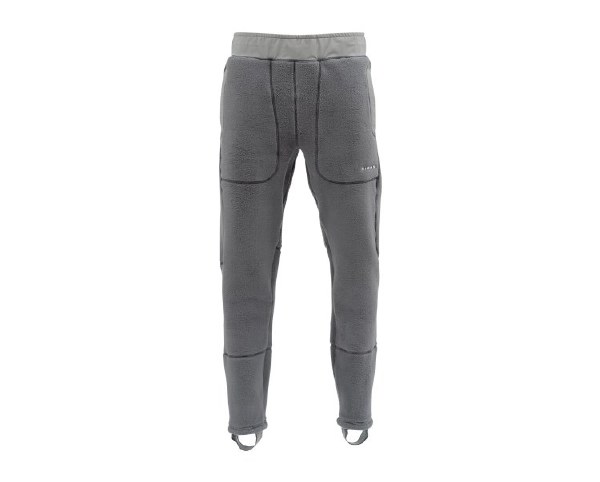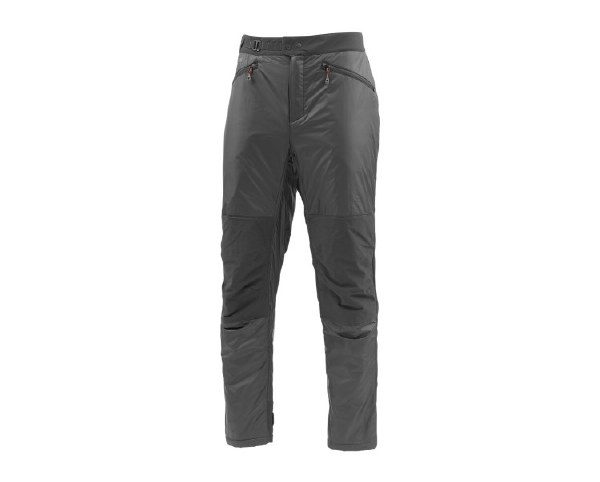 On top:
For a base layer, just remember to avoid cotton, and instead use a fabric like polyester. A couple of great options for mid layers would be a synthetic insulation, like the Loop Leipik Jacket), or a down layer (Simms Downstream Jacket). Down insulating layers are fantastic here as they are extremely light and insulate better than anything else out there. Just make sure you don't get your down wet as once its wet it compacts and does not continue to insulate, unlike wool and polyester, which still insulate when wet. I also like to wear a hard shell wading jacket when I'm winter fishing since the block the wind and protect me from any precipitation that might end up falling while I'm out there. Most of them also have great cuffs, which cinch tight and are nearly watertight when you put your wrists and arms in the water. The Loop Lainio Jacket is my choice for battling strong winds and heavy precipitation.
Head:
We lose a lot of heat through our heads, so toques are absolutely key for winter fishing. Good headwear can go a long way and we recommend the Simms Windbloc Series because it incorporates a layer of Windstopper fabric so to block some of our menacing Alberta winds. It is also fleece lined on the inside for extra warmth and comfort.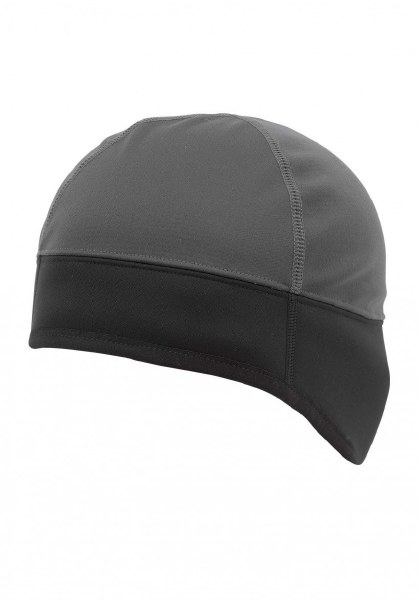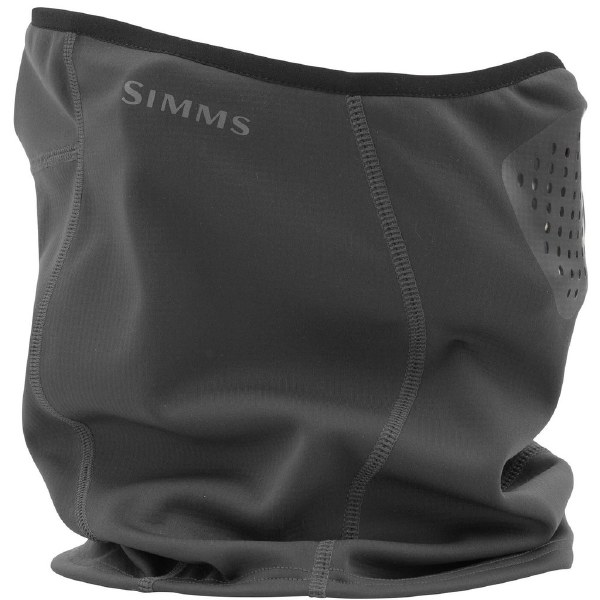 Hands:
Simms makes some really well thought out gloves for fishing in cold weather. My favourite is their Exstream Foldover Mitt. It makes all of your fingers available when needed, but covers them up if you don't.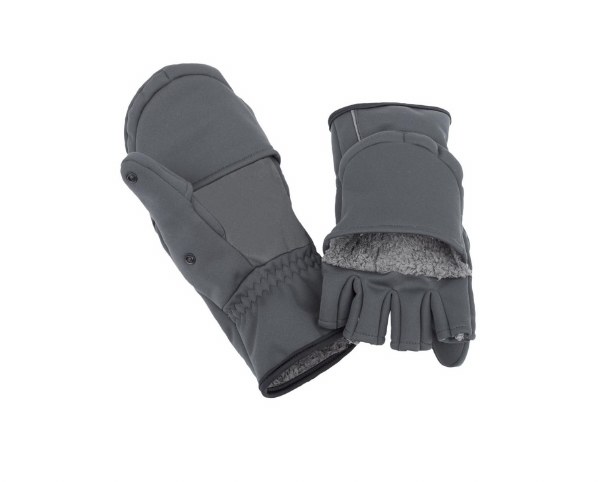 Hopefully these tips get you motivated to get on the river, even in tougher conditions, and do so comfortably. Cheers.