ADAM BUTLER
What excites you about working in this community?
What I like most about the fly fishing community is meeting people who share the same passion as I do. I find it interesting that most fly anglers I've met are down to earth, laid back and a lot of them are willing to swap stories, pictures and even share flies. Most anglers will even help you out with intel on what's working on that particular day. It truly is a community all on its own.

What is your number one tip for beginner fly fishermen?
Number one tip for a beginner would be something that can't really be taught. It would be patience. Have patience when you're learning the cast. Everybody has to start somewhere and don't get discouraged because you can't get the cast down your first or second time with a fly rod in your hand.
When you get the cast down don't rush into a honey hole. Be patient, take in your surroundings and enjoy your time on the water because it never lasts as long as it should. Have a coffee and kick over a few rocks it may help you with what the fish are eating.
Same thing goes for fly tying. Never be in a rush to tie up a fly. Take your time.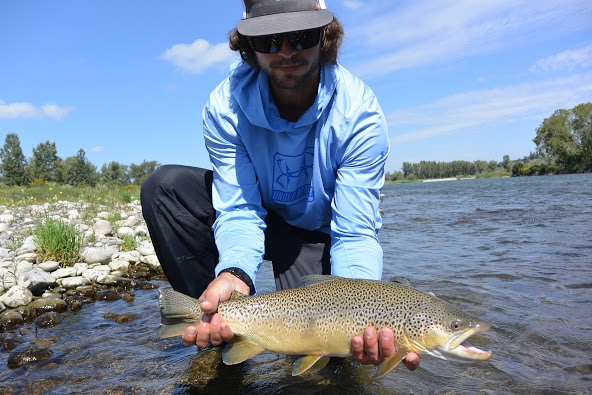 What is your dream fly-fishing trip (In Canada and Globally)?
Dream trip in Canada? I wouldn't mind going out to BC for a steelhead trip and see what all the buzz is about! But I'm also happy right where I am, on my home waters with my spey rod or single hander hooking into beautiful Bow River Browns.
Globally? I don't think many people have heard of it but a little place called Astove Island. I've only been lucky enough to see videos but it looks like a fly anglers playground.

What is your most memorable day on the Bow?
Most memorable day? Too many to list. I think my most memorable days are still to come.
When I get to put a fly rod in the hands of my Daughter and teach her how to fly fish (she's 3 months); or I get to take the man who taught me how to fish (my Dad) for a float down the Bow River. Both may happen on the same day who knows.

What is your favorite species to target (anywhere in the world)?
Favourite species to target? Fishing for Mako sharks, Tuna, GT's, Permit, Bonefish, Steelhead, Arctic Char, big Northern Pike or Bow River Browns. It's all good.

What boat do you row, and what do you like about it?
I row a Hyde Low Pro. What I like about it…? It was for sale. Drift boats are hard to find in Calgary.