Review: Winston Microspey Line-up
2018-04-10 at 20:08 pm
When Winston introduced their new series of two-handed rods, aptly named the BIII TH MS (Micro Spey), I couldn't wait to get my hands on one (or three!).  Being a steelhead fanatic who happens to live east of the Rocky Mountains, I'm limited to a few weeks of steelhead fishing per year.  Fortunately, I live a stone's throw from the world-famous Bow River in Calgary Alberta where the rainbow and brown trout are wild, plentiful and fight harder than most.  Lots of gentle gradient runs with broad current seams and enough water to allow for long casts make the Bow a river that lends itself well to the two-handed approach. It's easy for an angler to spend hours at a time picking apart the seams, buckets and deflections that make it a trout angler's paradise.  Though the Bow is where much of my trout-spey time is spent, I do frequent other waters when flows are high, and when the fishing is good it's enough to make you forget about steelhead, for a time!
I first got into two-handed fly rods because I wanted to chase steelhead on large coastal rivers, time spent on the Bow was all about matching rods with lines and learning how to cast various tapers.  The trout I caught were almost considered as by-catch save for the occasional 20+ incher on a 6126 for example.  Most rods on the market were just too much for the average trout and those that were considered "light enough" were hard to match with fishable lines, however, once rod and line manufacturers caught-on to the increasing popularity of two-handed "spey" rods they began to target a new market; trout-spey.  By adapting two-handed equipment (scaling it down to lengths and weights appropriate for trout), not only can you practice your casting for upcoming trips to salmon/steelhead waters, you can enjoy the same kind of experience, just on a smaller-scale.  The first Winston rod I purchased to seriously target trout was the BIIX 11' 7wt (really a 5wt in two-handed terms).  This rod was an absolute blast to fish and some cool new short-head spey lines came to market while this rod was in my quiver.  Now with the Winston BIII TH MS series, we have a "rod for all occasions" in our pursuit of trout with two-handed rods.
My first hands-on experience with a Winston Micro Spey came during the fall of 2015 when a friend sent me his 11'6" 5wt to fish and give my impressions.  Upon first inspection, the rod was gorgeous.  That trademark Winston green, the flawless finish of the blank, super clean thread-wraps, ferrules and hand-script labeling, not to mention the finest grade cork to be found on a fly rod are all features that exude class and top tier pedigree.  Another feature that I appreciated was the thinner profile of the handles which, while a seemingly intuitive feature for such a light two-hander, tends to be lost on a lot of other manufacturers when designing their "trout-speys".  The beauty of the rod, attention to detail and overall lightness, however, belied the power on offer from that boron butt section, made available by some of the best fitting sleeve-over ferrules I've fished.  For a test-run, I strung the rod with a 360 grain Airflo skagit switch and 13' RIO 8wt sink tip.  Settling in to the top of one of my favorite runs, I began casting, working out to a comfortable maximum distance before taking my first steps.  Well, that comfortable distance happened to be just a little further than I had anticipated.  Granted I had started with a "smaller" fly than I sometimes fish, I was pleasantly surprised by how far I could reach-out with very little effort.  Although I could push the rod further still, I have a bit of a love/hate relationship with stripping running line and was simply looking forward to hooking-up with a quality Bow River fish.  During my time on the water with the 5wt Micro Spey I fished a wide variety of flies from small leeches all the way up to larger intruder-style flies tied on 25mm Waddington shanks with trailer hooks.  Because this rod is designed to work with heads of up to 390 grains, it's able to pick-up and turn over a larger payload in terms of both tips and flies than the other rods in the BIII TH MS lineup. 
            And so, my dilemma came to be.  While fishing the BIII TH MS 5116 from fall to the following spring, I managed to catch several high-quality fish in the 22"-25" range, rainbows and browns.  The rod bent deep and the fight from those fish was oh-so satisfying with this new trout-spey.  I was ready to place my order, that is until I got my hands on the 4110! 
With the BIII TH MS 4110, I was still able to reach out to far-away lies with large flies, though not quite as large of flies as with the 5116.  I also found that I could push this rod hard, in fact it was as though the rod was encouraging me along the way, the more I pushed the more performance it offered!  I fished smaller intruder-style flies tied on 15-20mm shanks, rabbit strip streamers and dubbing loop leeches, all were easy to cast and brought many fish to hand.  While I mostly streamer fish with trout-speys, I certainly enjoyed the 4wt for skating dry patterns at dusk and dawn during our golden stonefly hatch using a light scandi head.  I caught many nice fish with it, though nothing in the class of fish I had caught with the 5wt.  Was I only going to catch big fish with the 5wt?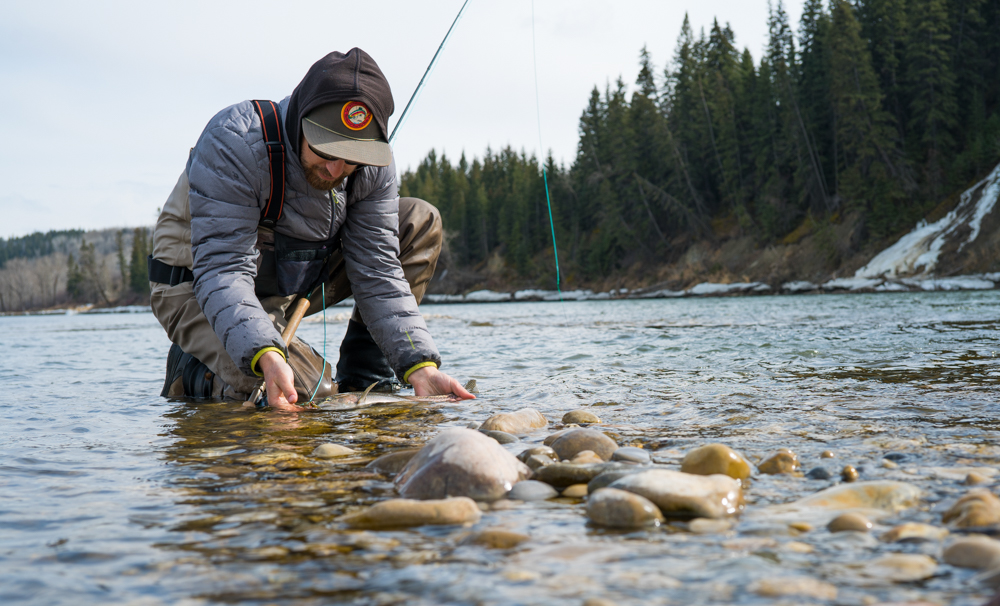 Truth be told, I ended up purchasing the 4110 (more on that later), but that was before I got my hands on the 10'6" 3wt.  Ah the BIII TH MS 3106, what a wonderful, wee, magic wand!  My timing for getting this rod out on the water couldn't have been better.  Early fall, warm temps, low-water and the start of some fantastic backswimmer fishing.  To begin with, I strung the rod with an Airflo Skagit Scout 240 grain and RIO 6wt sink tip cut back to 12'.  This head/tip combination, however, wasn't working as I had anticipated.  I tried all the casts in my repertoire, modifying my stroke for each but alas I found myself a little off-put.  After a dram and a thought or two as to the hang-up in my rigging, I simply looped-on the 8wt tip and bingo! I was cranking 70'-80' casts and getting solid grabs and hook-ups everywhere I put my fly.  A foam backswimmer pattern tied on a #10 bonefish hook and fished behind a leech on an intermediate or type 3 tip was just the ticket for all the fishing I did with this rod, straight into December! After a couple months fishing this rod, the thought began to creep back into my head; was I only going to catch big fish with the 5116?  Well, persistence paid off (in this case anyways).  While working down a pretty non-descript piece of water I was taken a little off-guard.  The take was sudden and forceful, my reel immediately paying line to a quality rainbow that cartwheeled and ran just to my backing.  Having a quality fish pinned to the end of the 3wt Micro Spey is too much fun, you truly get the most out of trout, even the small ones.  Don't get me wrong though, while larger trout punch above their weight on this rod, there is still ample power to turn fish and land them handily.   
            As I alluded to previously, I chose the 4110 for my quiver.  Am I disappointed for not having tried the 3wt before spending the money, no.  For me, the 4wt is the goldilocks rod in the Micro Spey lineup, therefore, if I could only have one, it would be the 4110 (if I could have two, I'd chose the 3wt and either the 4wt or 5wt!).  How I rationalize it to myself is like this: while they will all cast and fish smaller flies effectively, the 3wt is not a big-fly rod.  Most of the fishing I do with two-handers revolves around larger flies and so both the 4wt and 5wt would suit my needs, however, I am partial to lighter rods and lines, hence my decision to go with the 4wt.  If I was interested in a rod solely for swinging soft-hackles, nymphs, leeches/small streamers and dries, the 3wt would be my pick.  And so, this brings us to an important point when selecting two-handed rods for trout.  While it is always fun to play fish on lighter rods, fly selection is limited by the mass of the line and since light rods typically cast lighter lines, you simply cannot expect to cast larger flies on lighter rods/lines!  So, whether you fancy swinging soft hackles/nymphs/leeches (3106), rabbit zonkers/small intruders/tube dries etc. (4110 & 5116) there is a Winston Micro Spey for every way you'd care to swing for trout and if you're like me, they'll help ward-off the shakes between now and that next tug from a steelhead!
Line Chart: